Department of Training and Placement
 Kathir College of Engineering (KCE) has revolutionized engineering education through Technology Enabled Active Learning across different spheres of education, learning & technology training.
KCE has taken a paradigm shift in training the learners and making them Industry ready.
The department of training & placement at KCE facilitates the following:
Organize On/Off Campus and Pooled Campus Drives.
Facilitate Interaction with Industries through Industrial Connects, In-plant training, Guest lectures to make our students to be Industry ready.
Ensure that every student is prepared with the necessary skill sets to pursue a rewarding profession of his or her choices.
Actively interact with Professional and Industrial bodies like IETE, IEEE, ISTE, Institution's Innovation Cell, Confederation of Indian Industry, Institution of Engineers (India) etc making the students to promote based on his/her interest.
Organize corporate training programmes.
Up skilling the members of faculty for effective classroom delivery.
Provide opportunities for Faculty members taking up sabbatical training in various Industries.
Leverage various Industry Connects for effective teaching, learning and skilling.
Highlights and Opportunities
60+ Companies are Connected with the Institution and recruits annually
Average salary through on-campus recruitment is 2.6 Lakhs per annum
60 % of IT Companies (Product &Service Based) are reputed national and multinational corporates.
40 % of Core Engineering Companies
Upholds a placement record of more than 90% in the last three years
Current Highest Salary Package is 6 LPA
Provide opportunities to avail student's project in the industry as an internship with stipend during their graduation
Training and Placement Process
Training and Placement Raodmap
I Year
The activities of the first phase begin in the first year of study. This mostly focuses on discipline, grooming and career planning, establishing one's own unique personality, and developing the language skills. We also educate students about employable skills and the employment market in the first year of their studies, allowing them to plan their futures effectively.
II Year
From the second year onwards our primary goal is to improve the students Improve Aptitude and Cognitive Learning, Thinking and Skilling (quantitative aptitude, verbal ability and reasoning skills). The goal of this phase is to help students sharpen their analytical skills and learn how to successfully manage their time during campus interviews.
III Year
This phase starts from 3rd year onwards which focuses on improving the technical competencies and bridging the gap between Industry and Academia. KCE provides employability empowerment programme – an advanced level of extensive technical training (Bootcamp model). This training program is usually conducted after the semester examination by the experts from industries.
IV Year
In this phase, the students get an opportunity to do their final year projects in the industries as an intern with stipend. After successful completion of the internship, the students shall be provided with full-time employment & The college invites the Industries to conduct the Campus interview process at the college premises. More than 60 MNC companies visit KCE annually providing an excellent placement record. After the campus interview, the department of training and placement would hand over the company offer Letters to the placed students.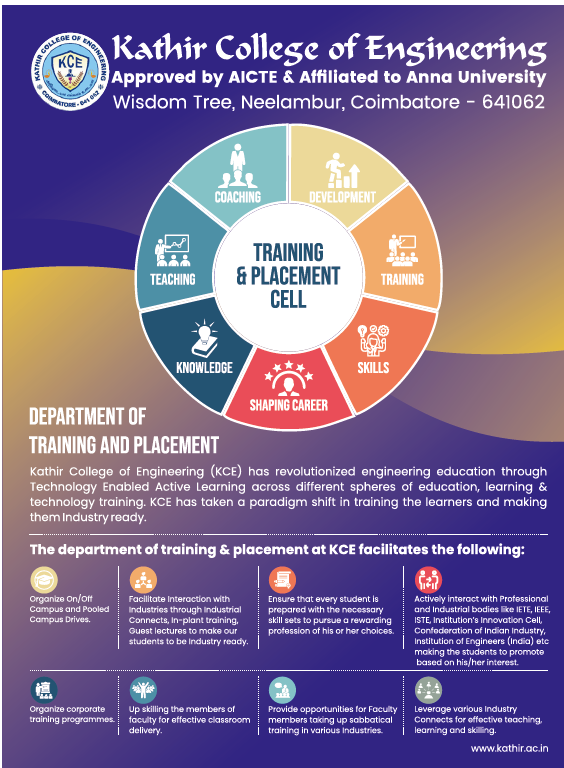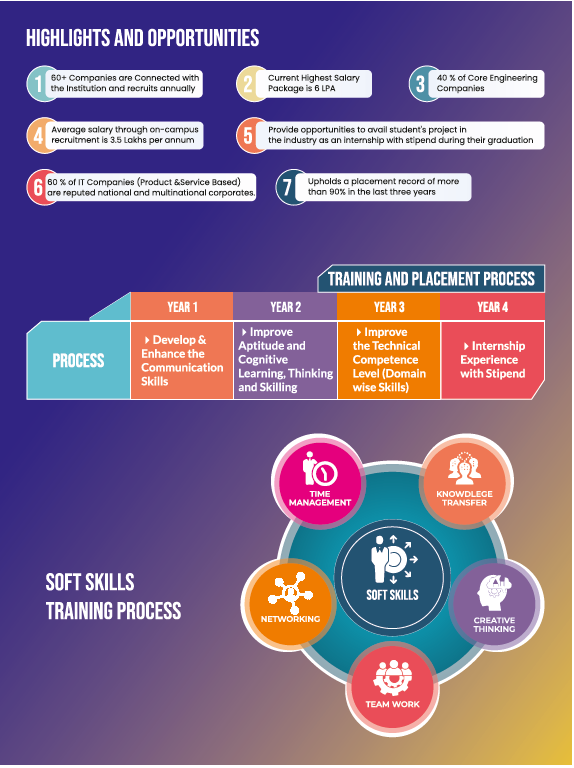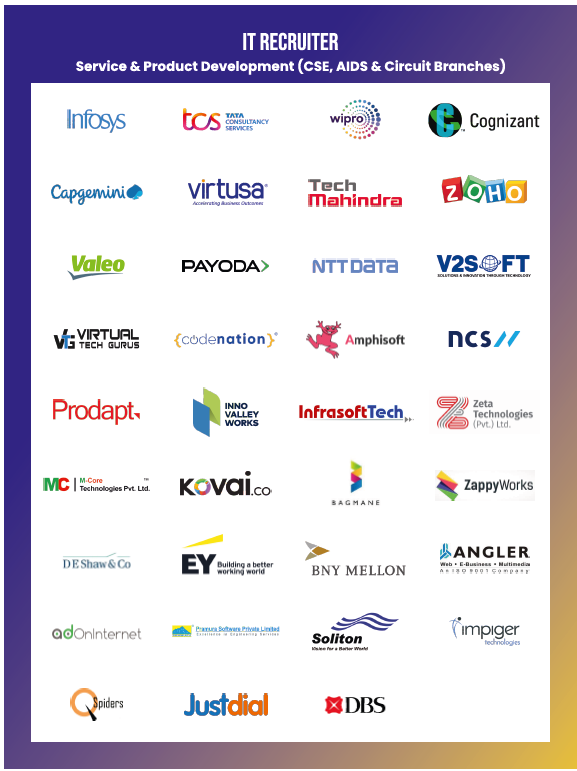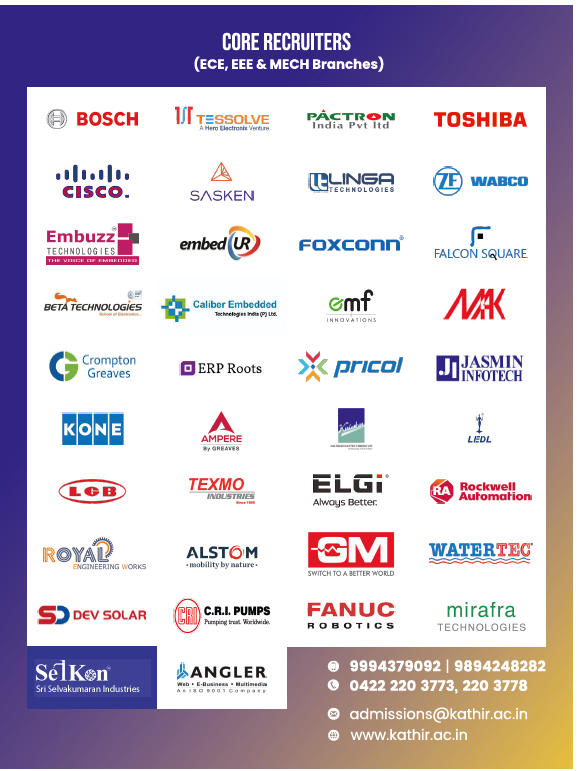 2021-2022 Placement Highlights
Sasken On Campus Pooled Drive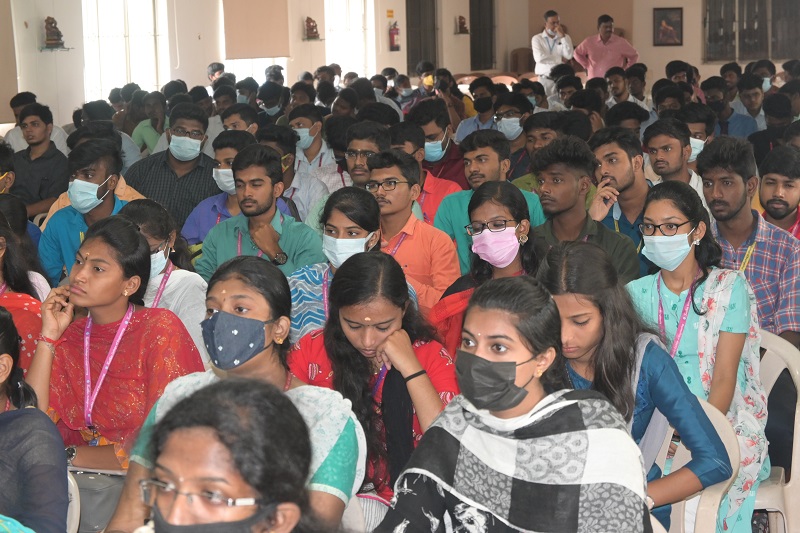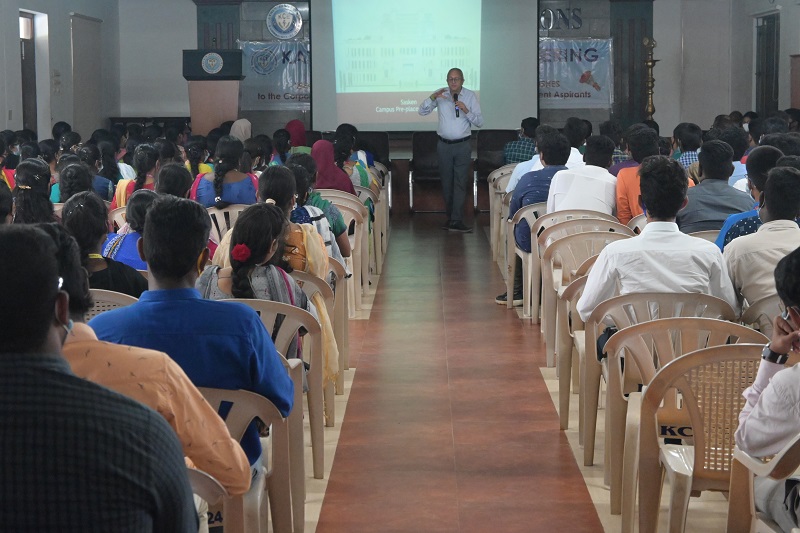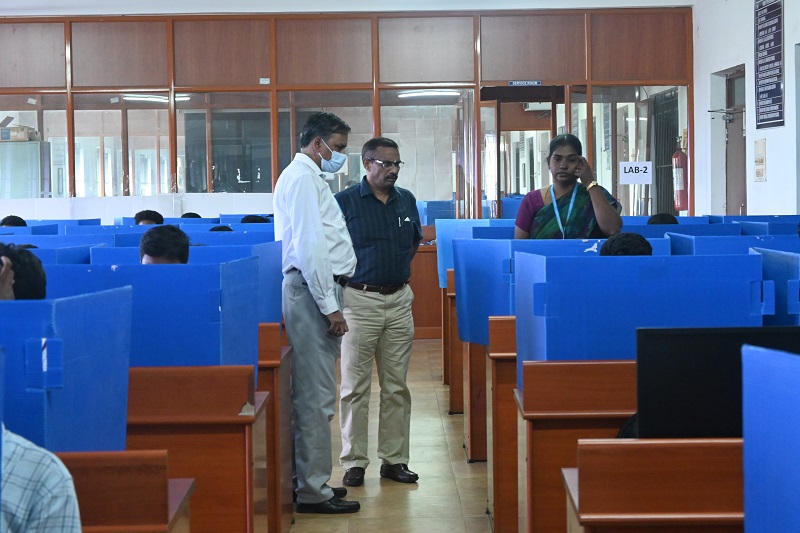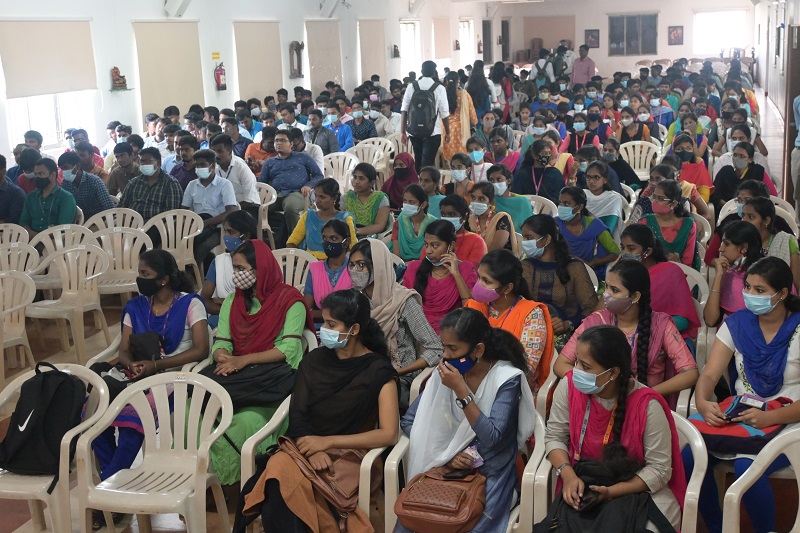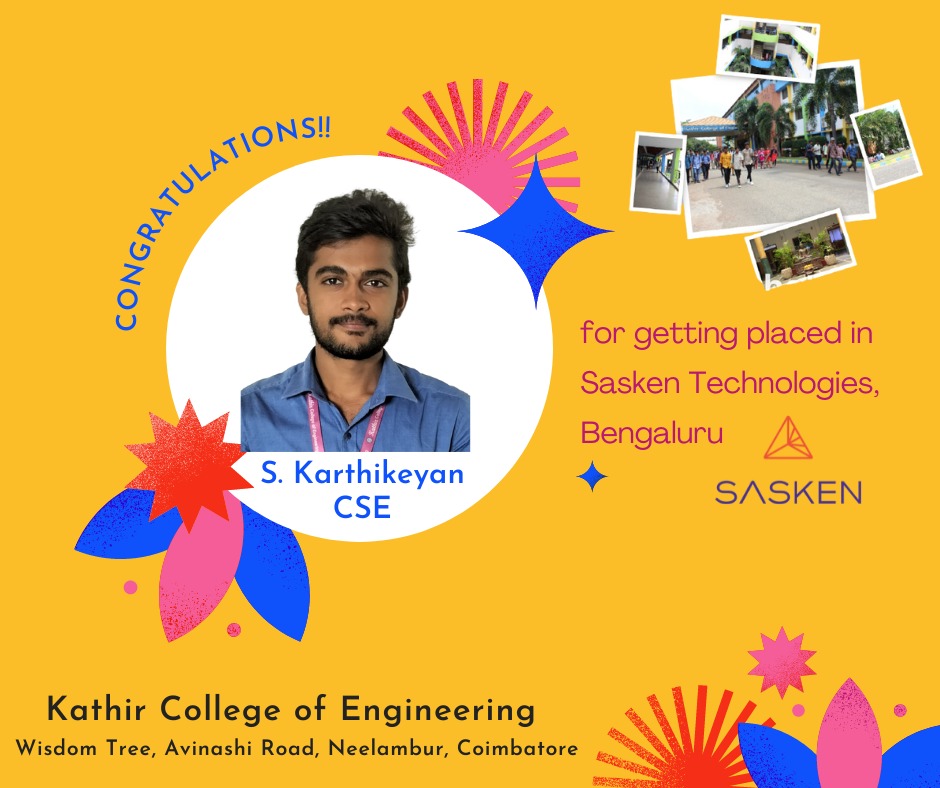 2021-2022 Placement Highlights
Tessolve Semiconductors Campus Drive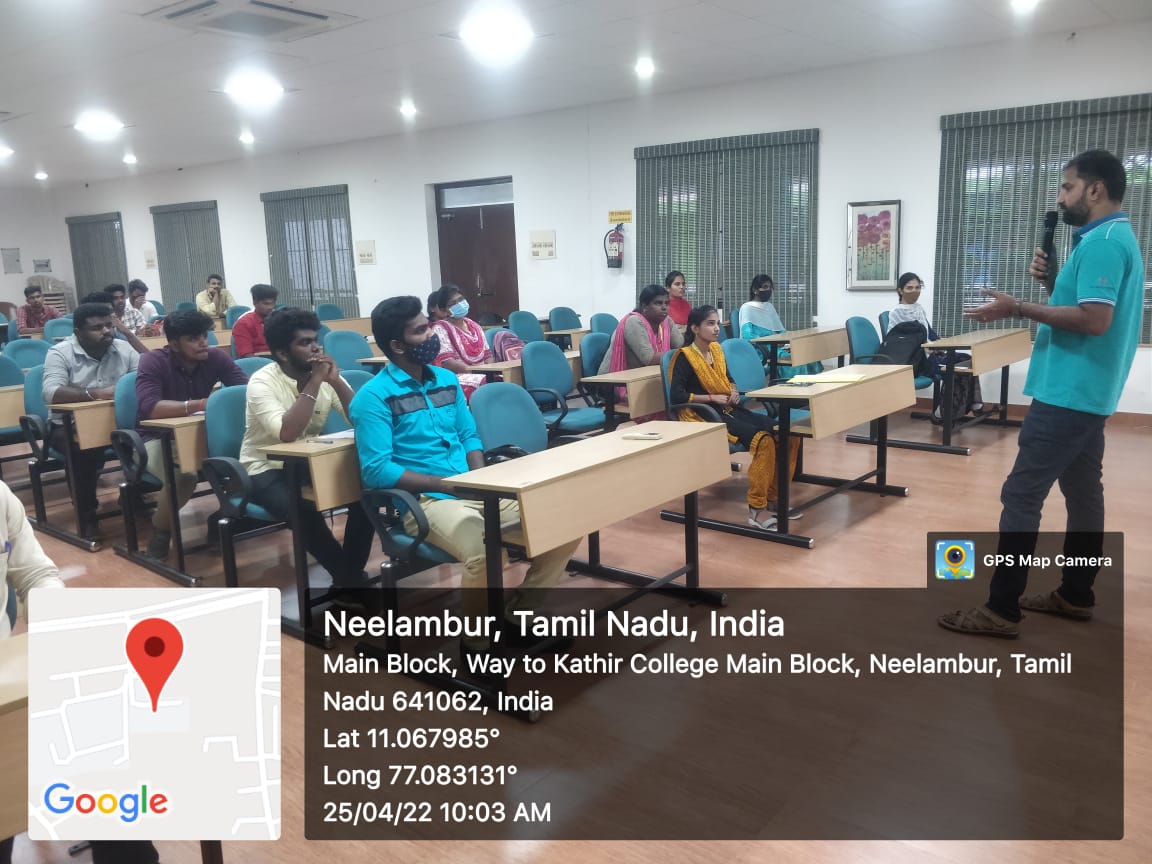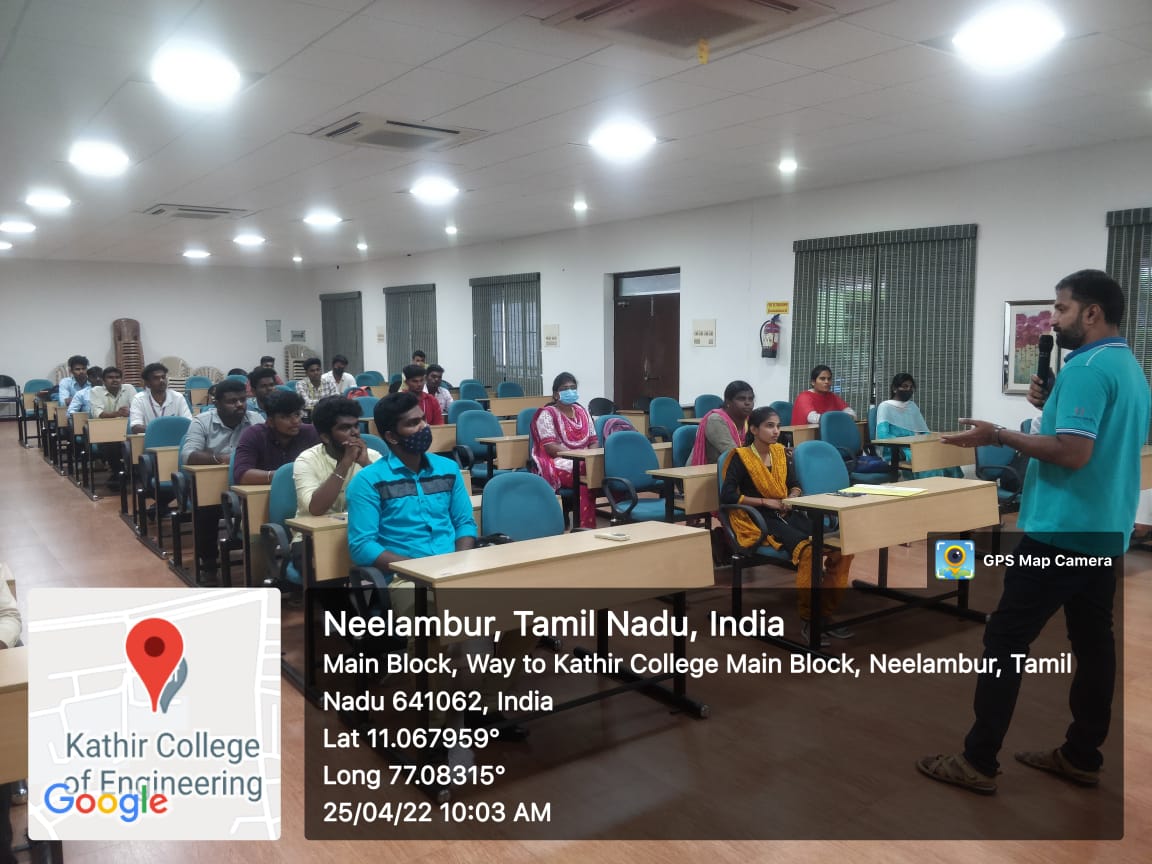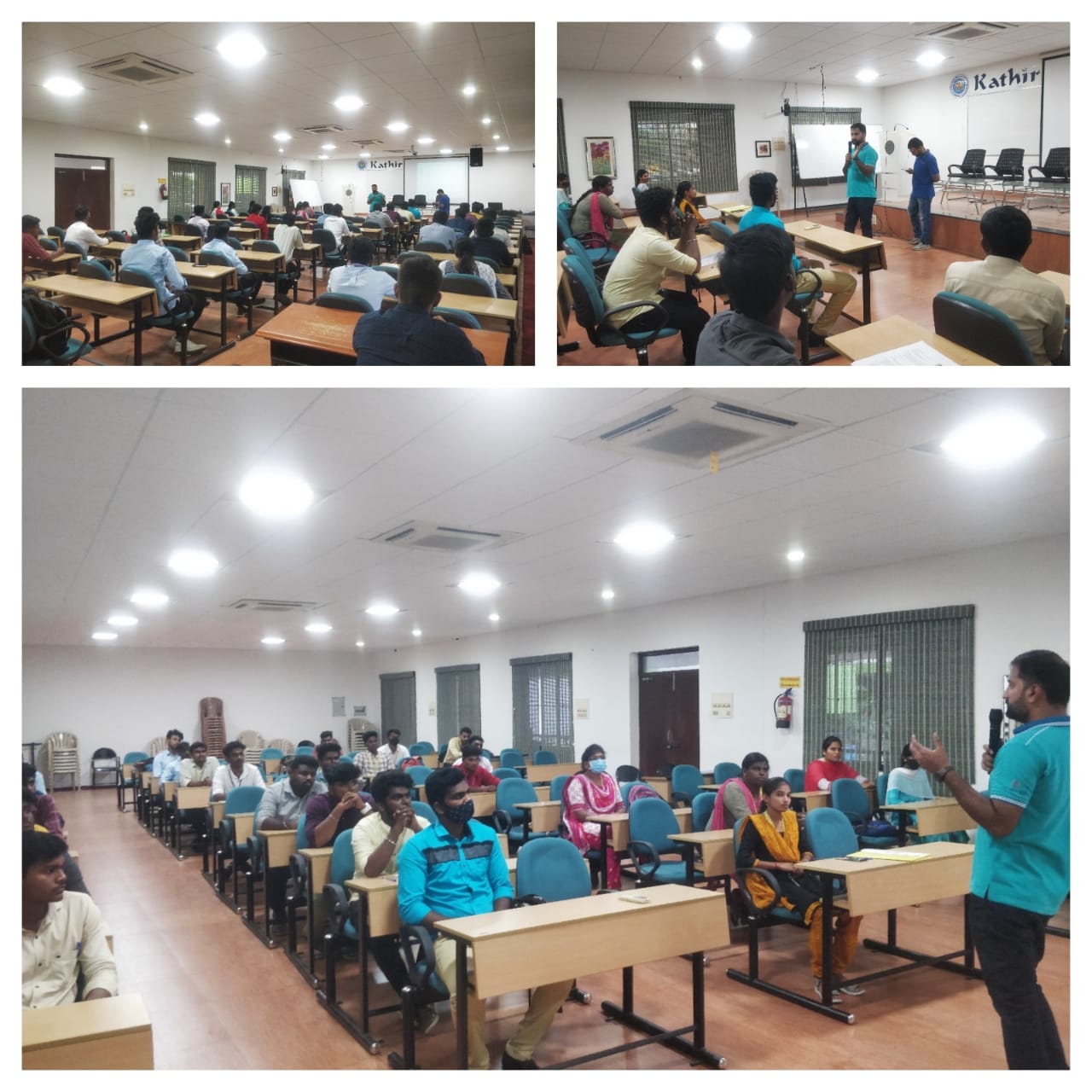 2021-2022 Placement Highlights
Corporate Teams Locking Horns for Kovai Corporate League Cup at KCE Cricket Ground
2021-2022 Placement Highlights
LGB Placement Drive for Mechanical and EEE Departments
2021-2022 Placement Offers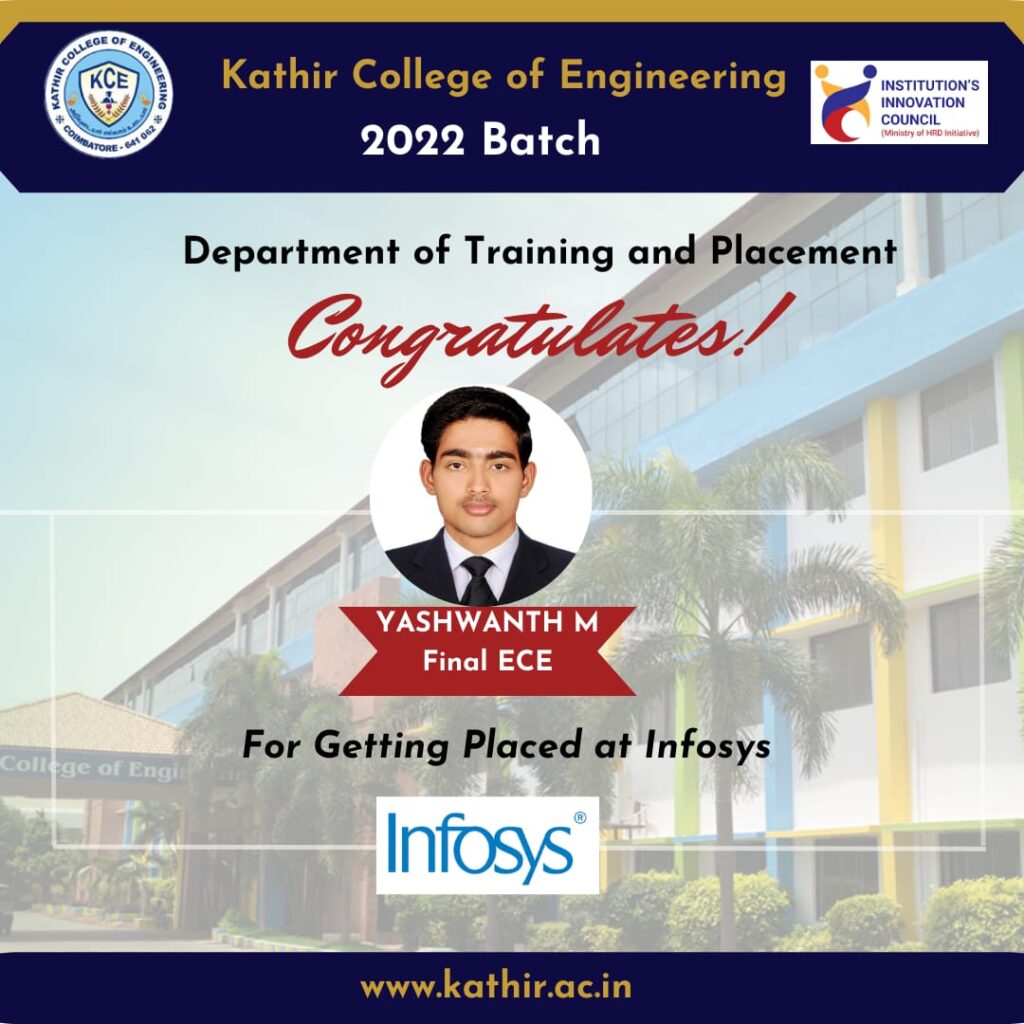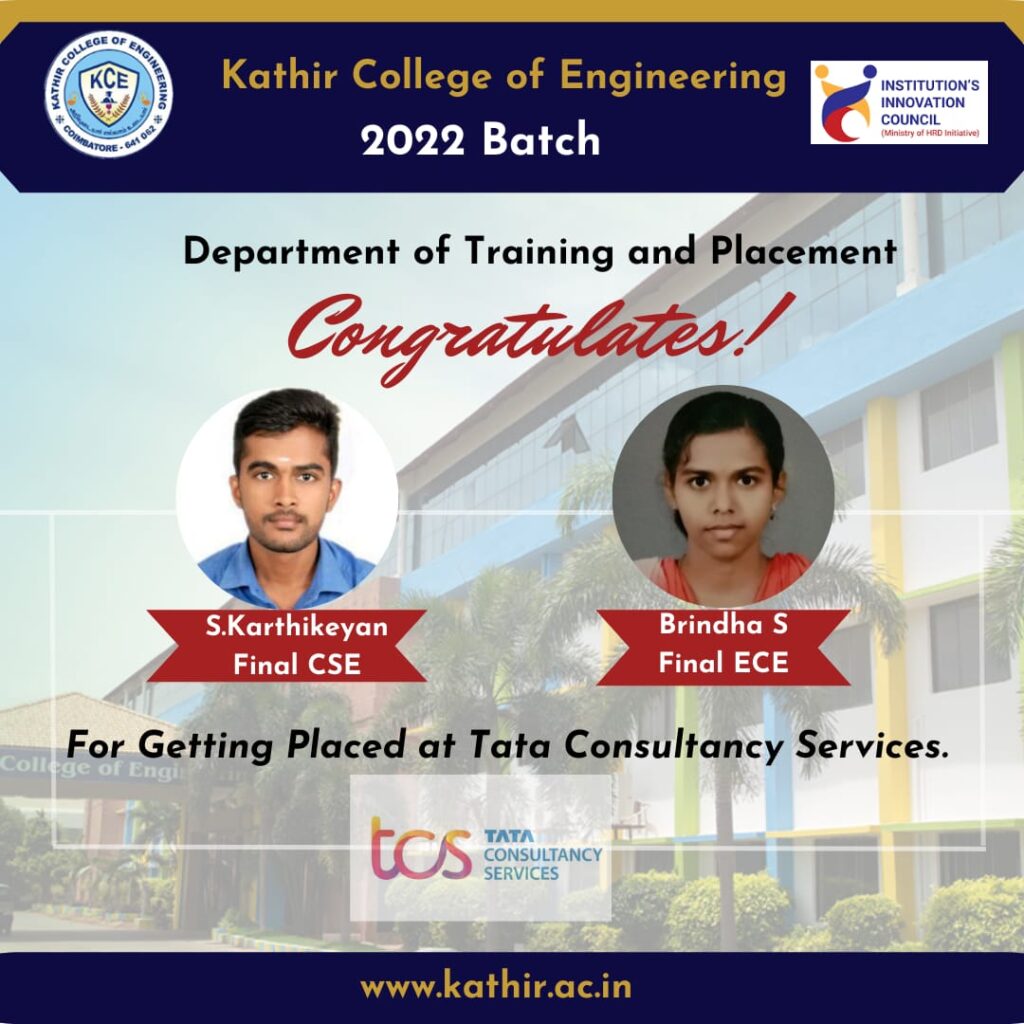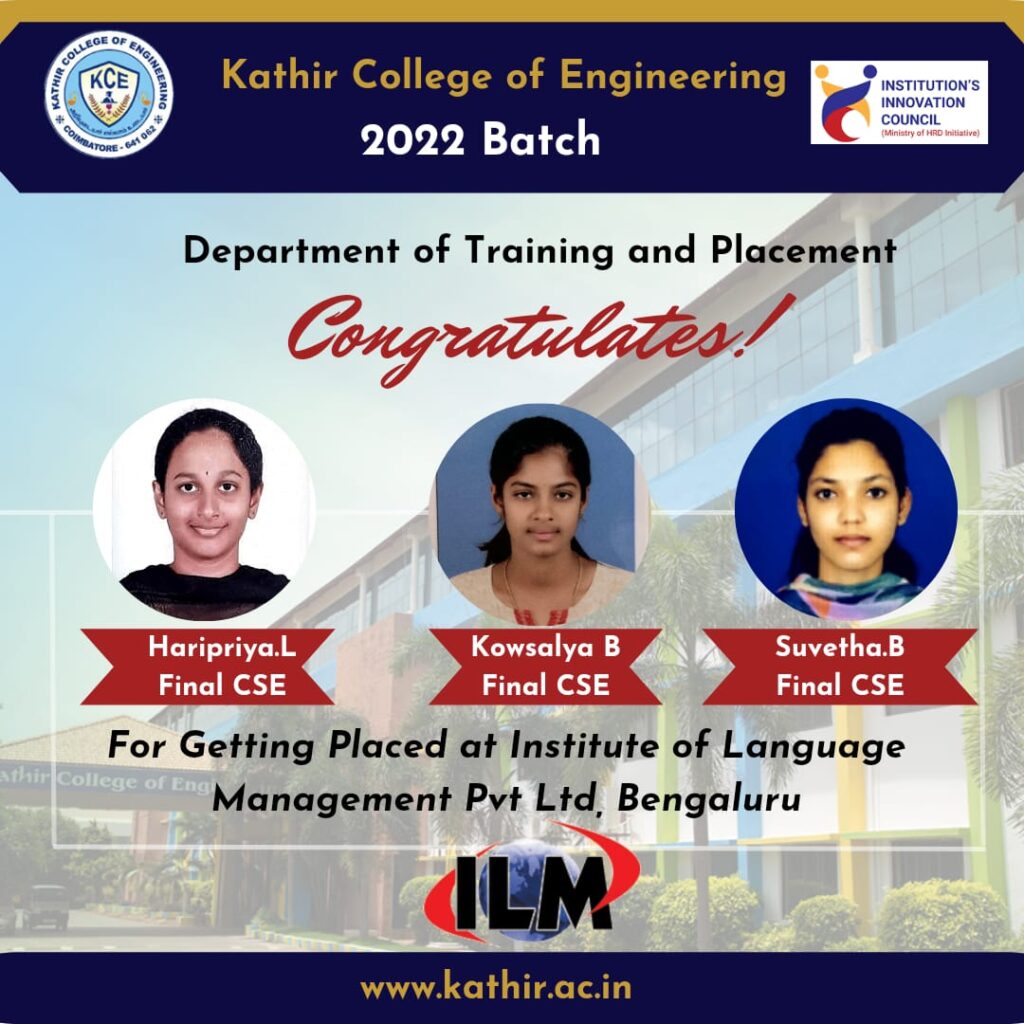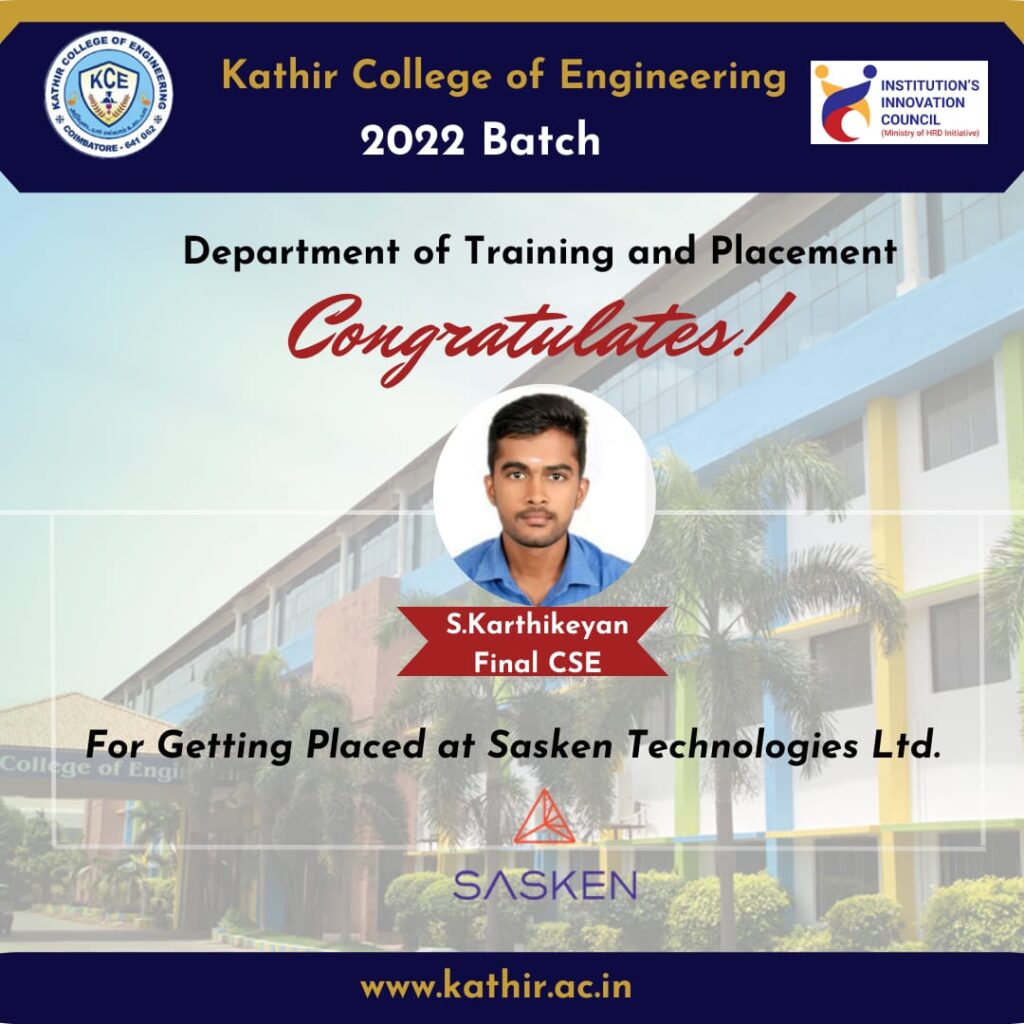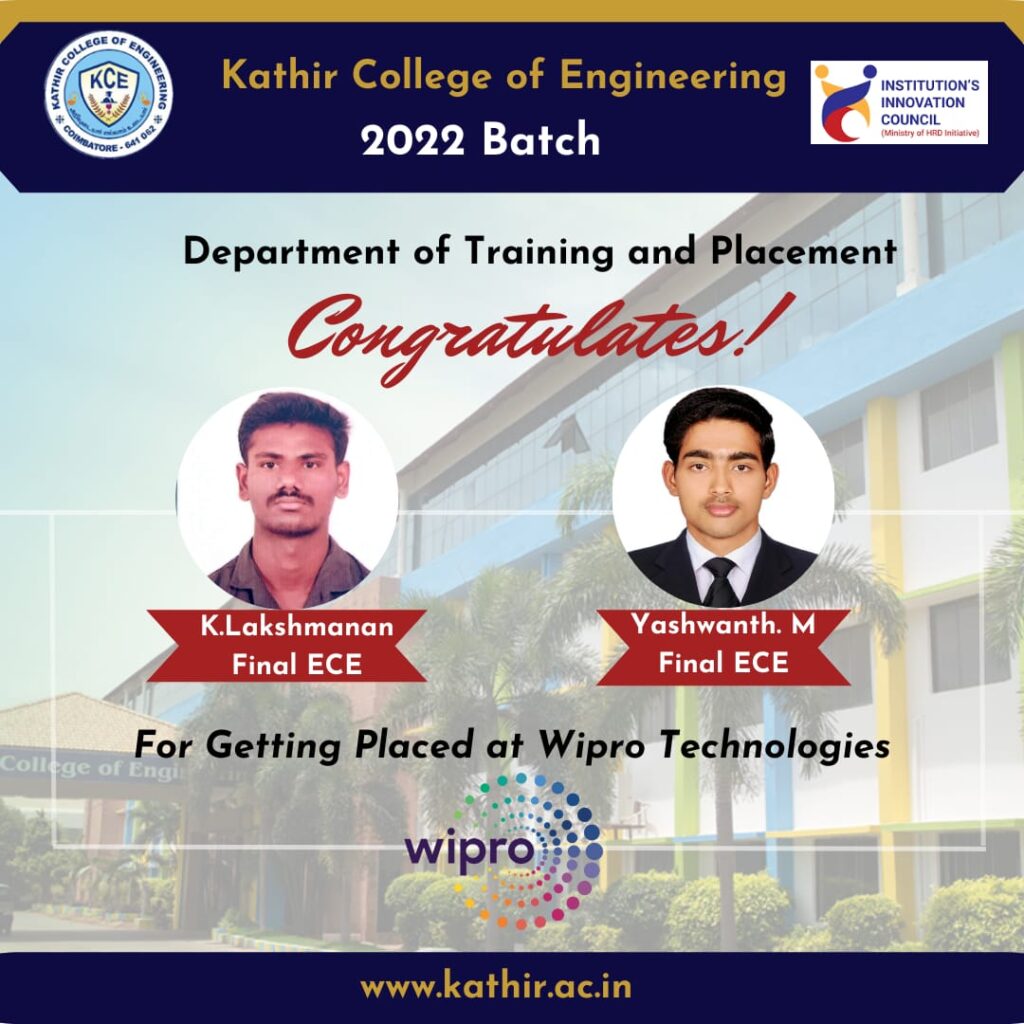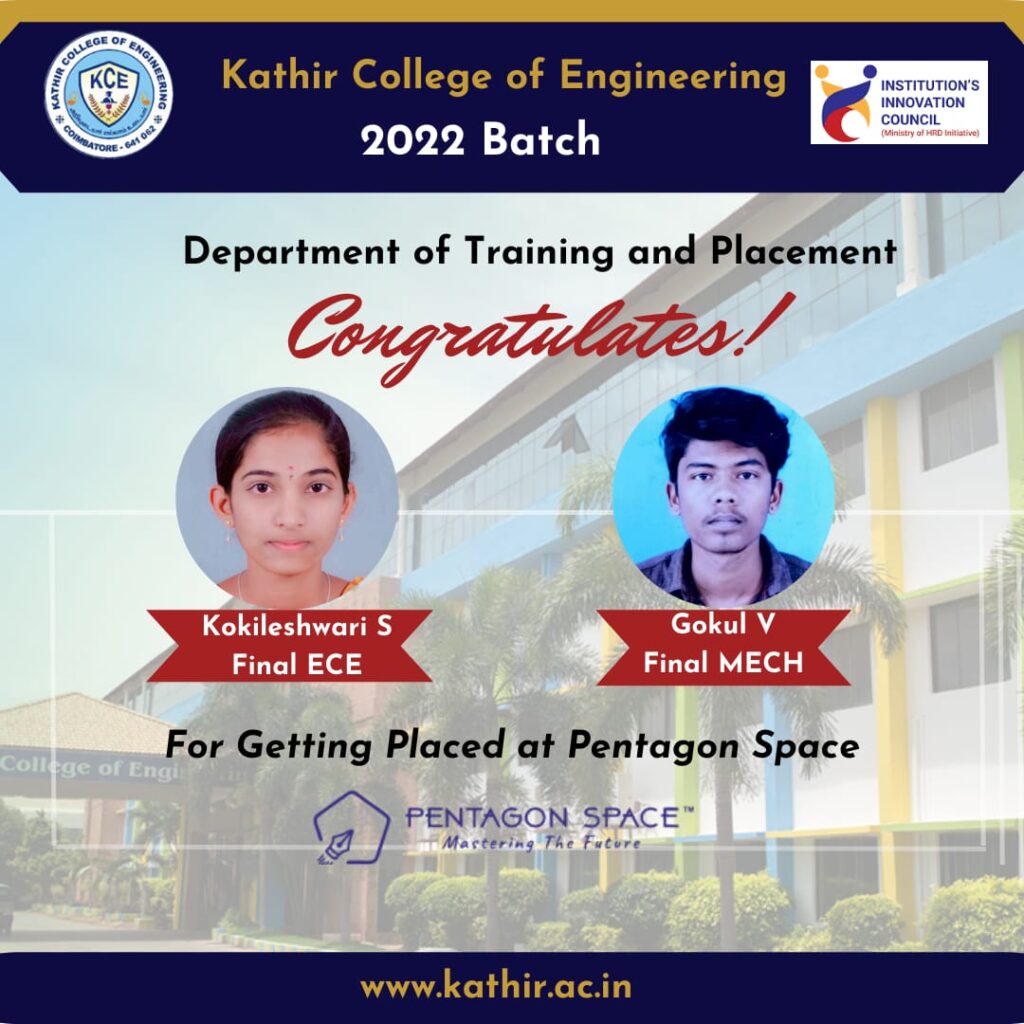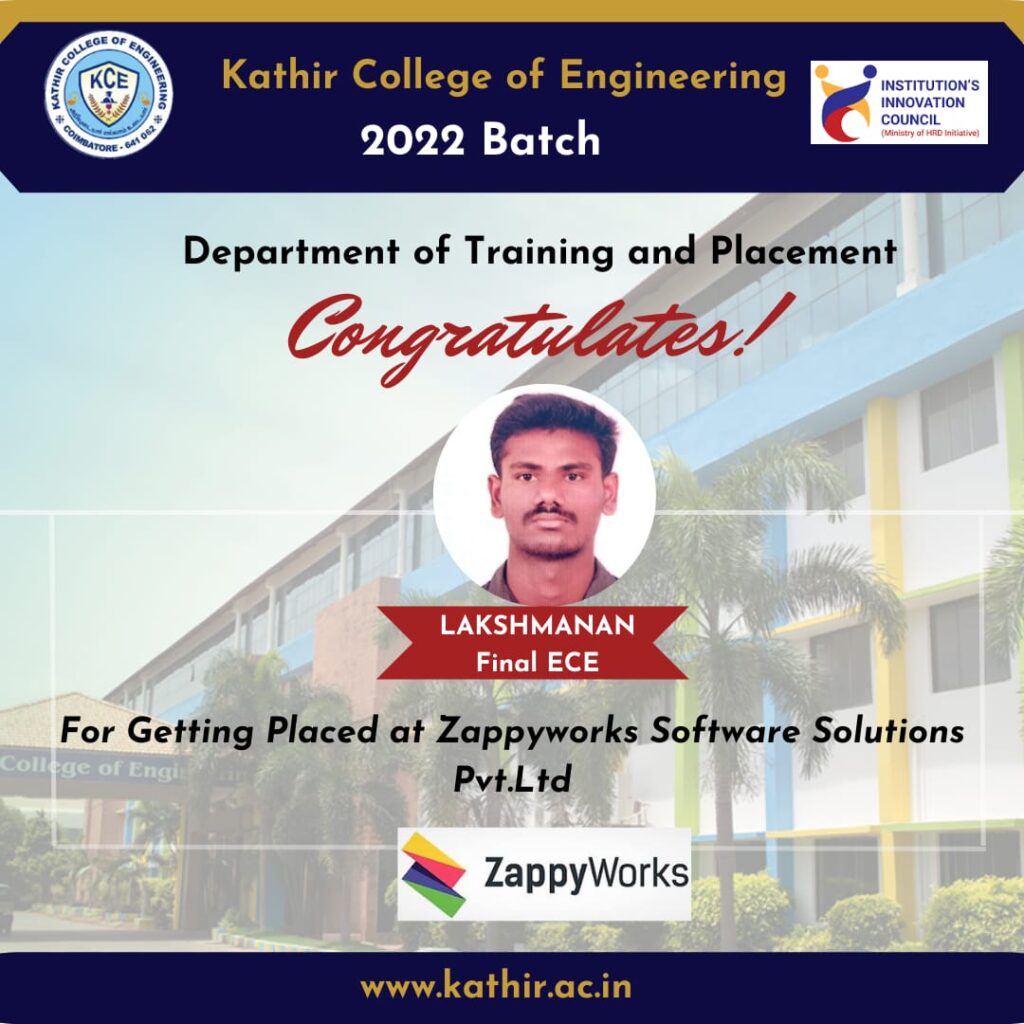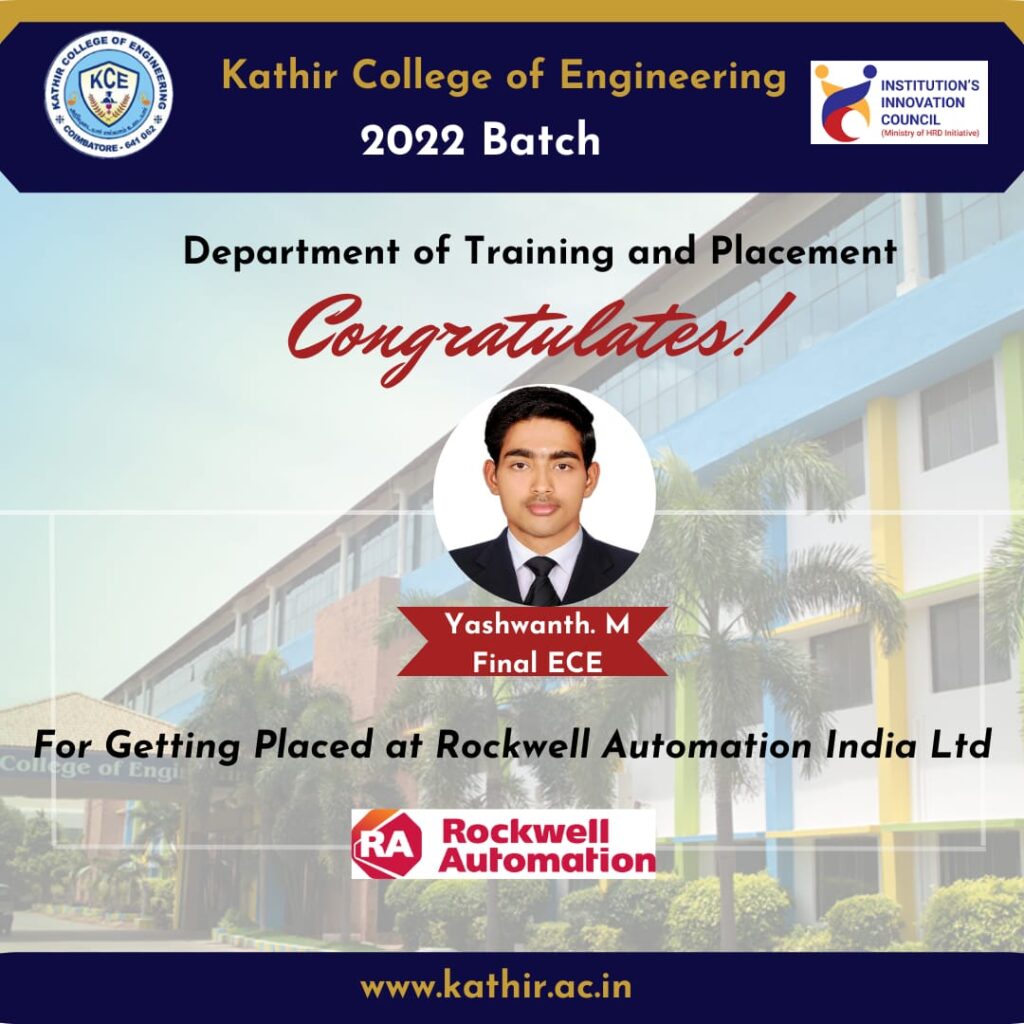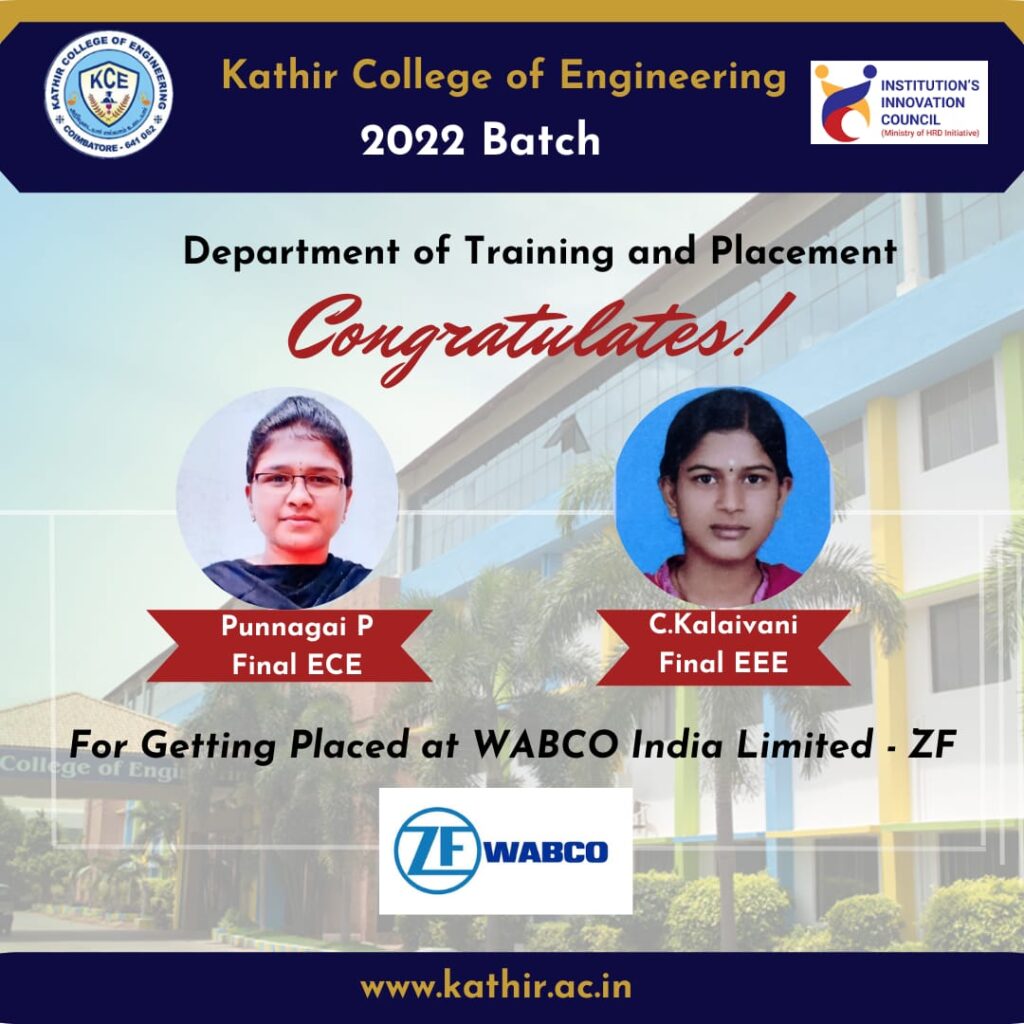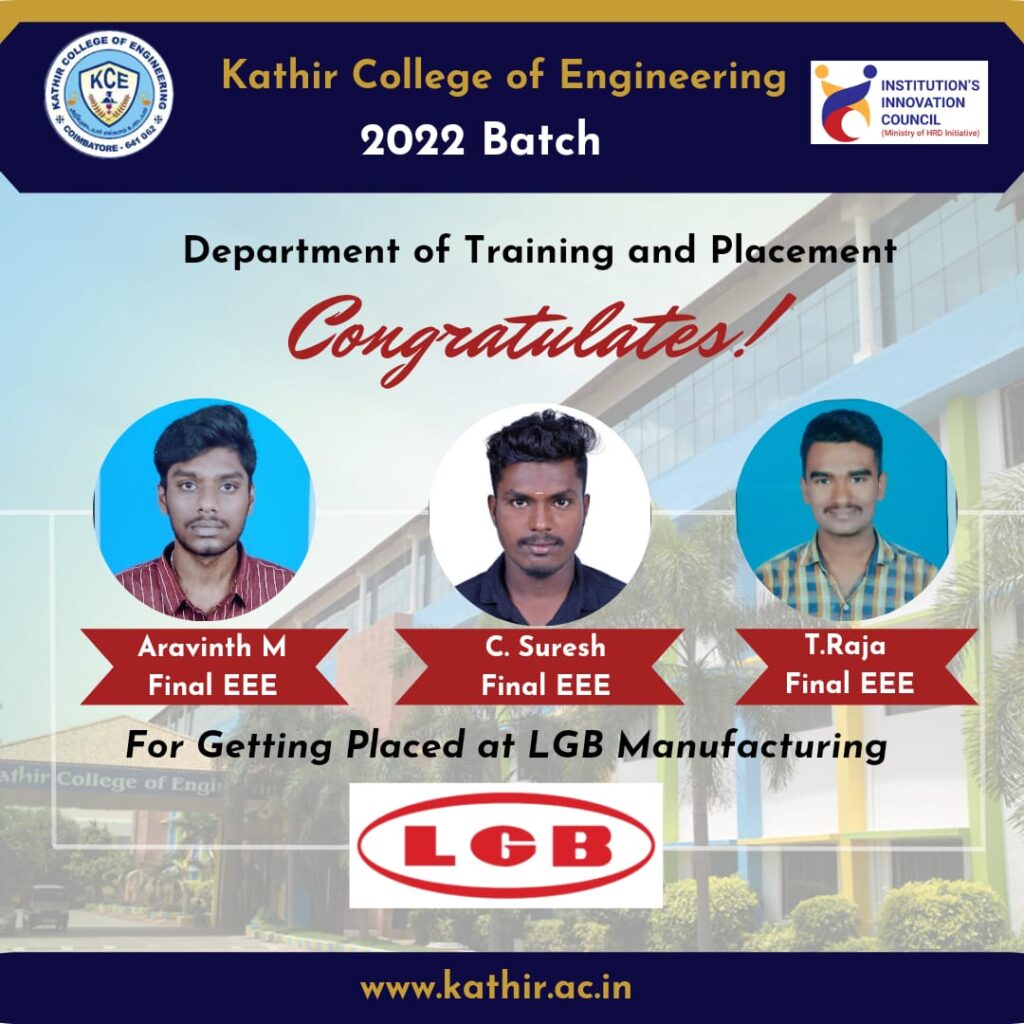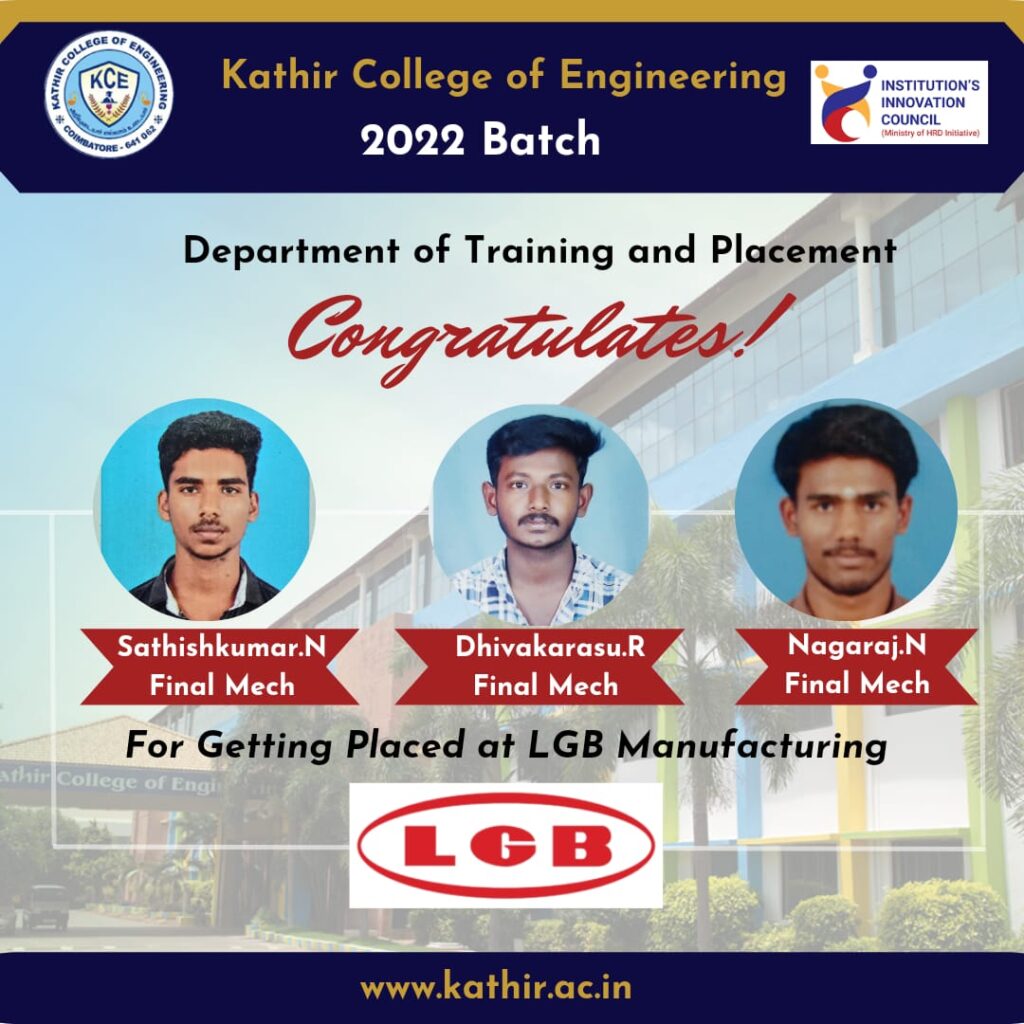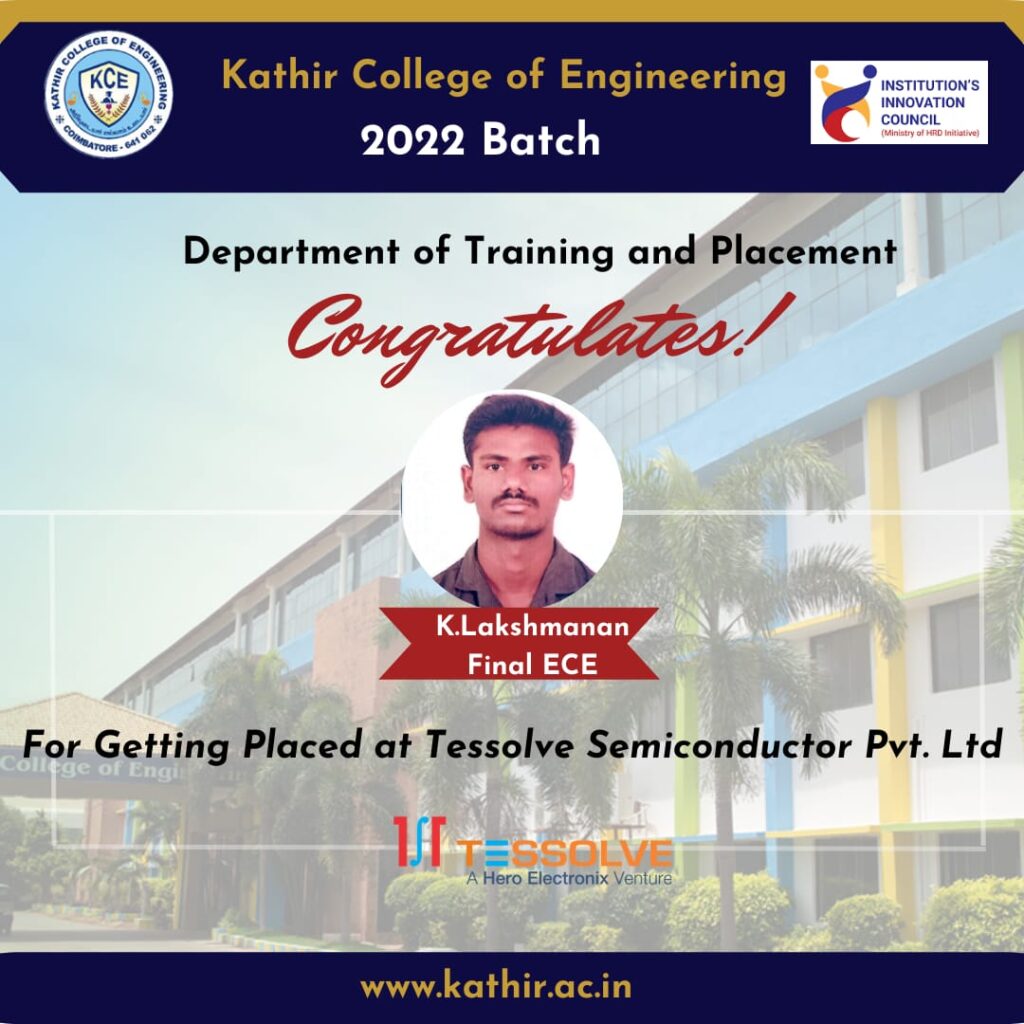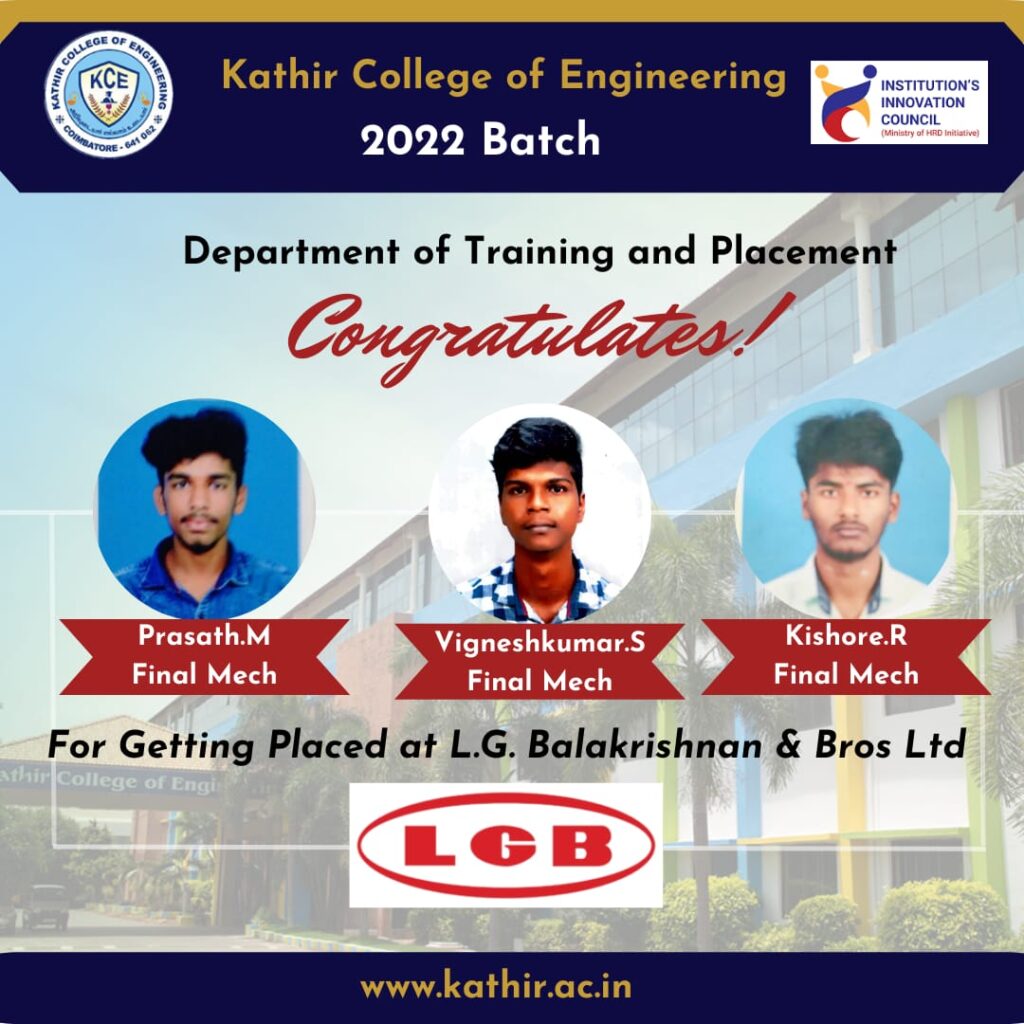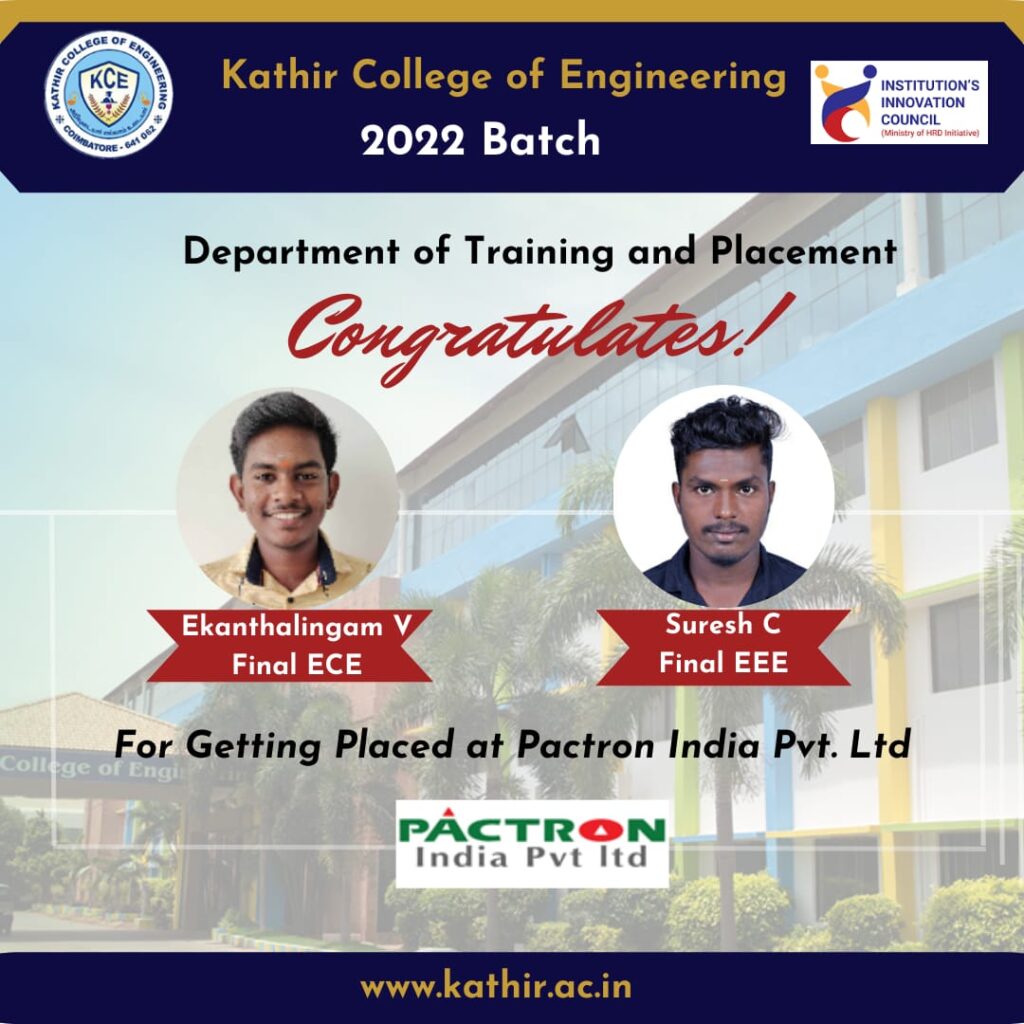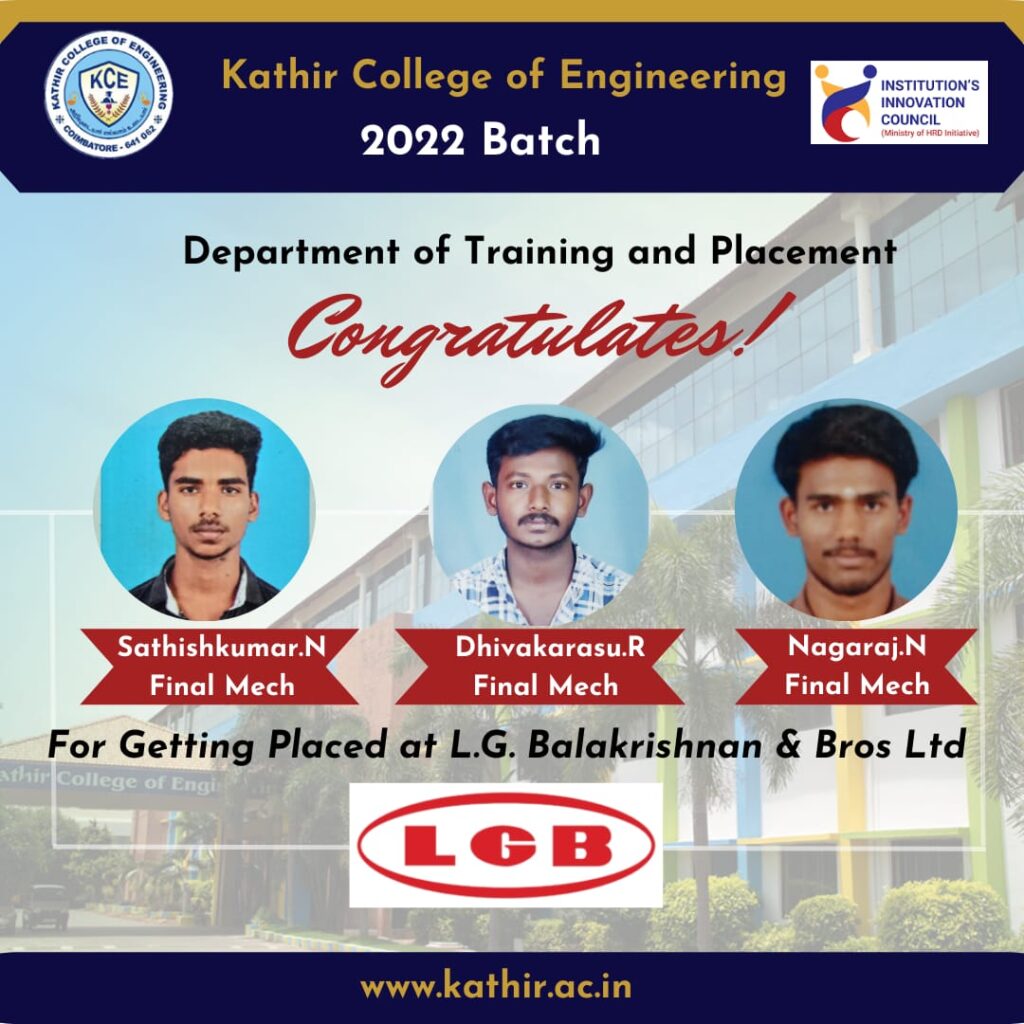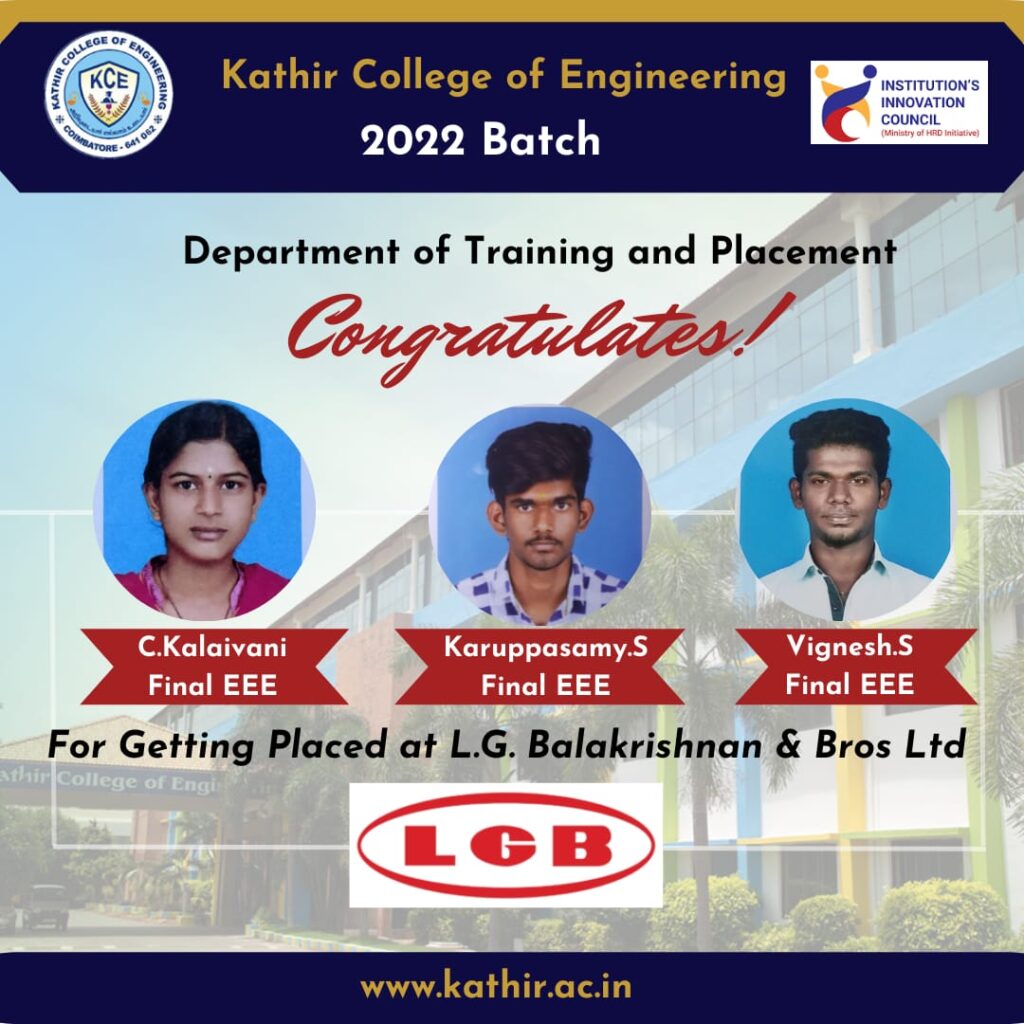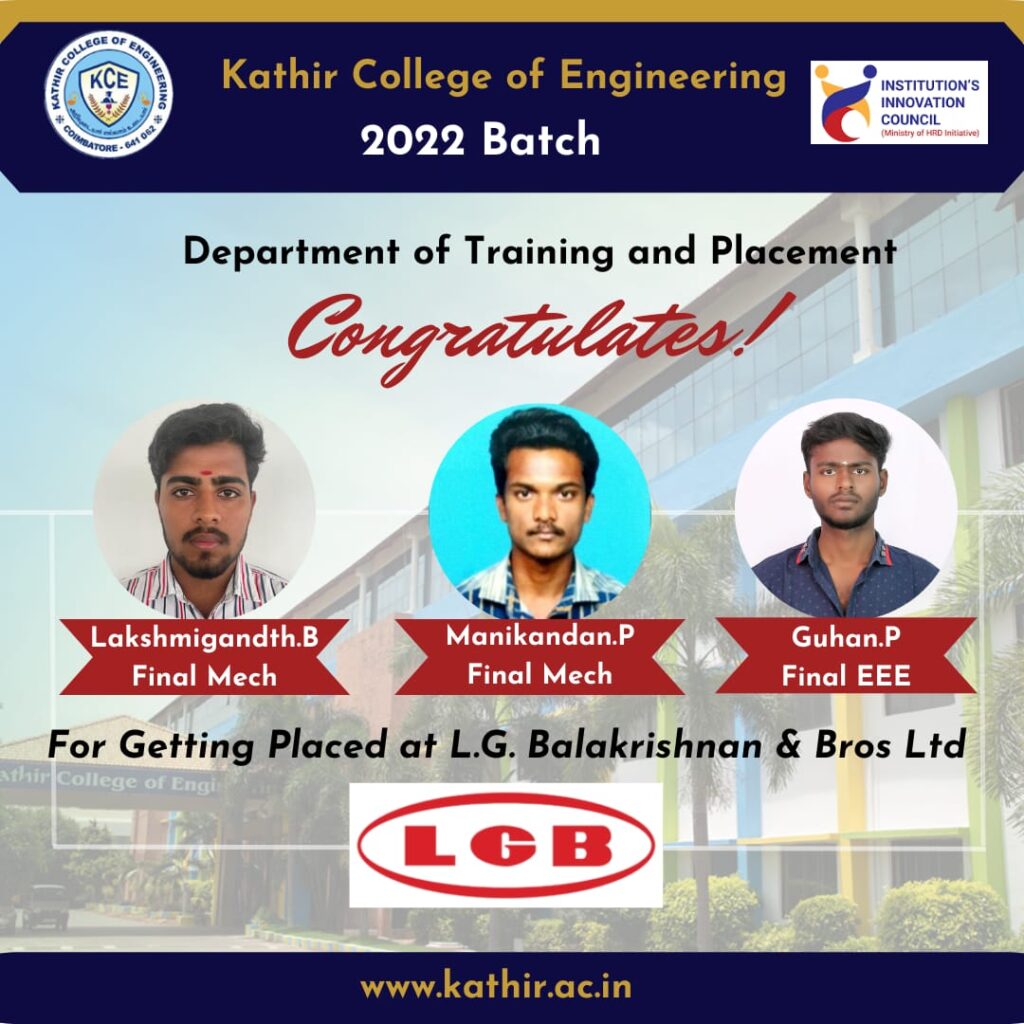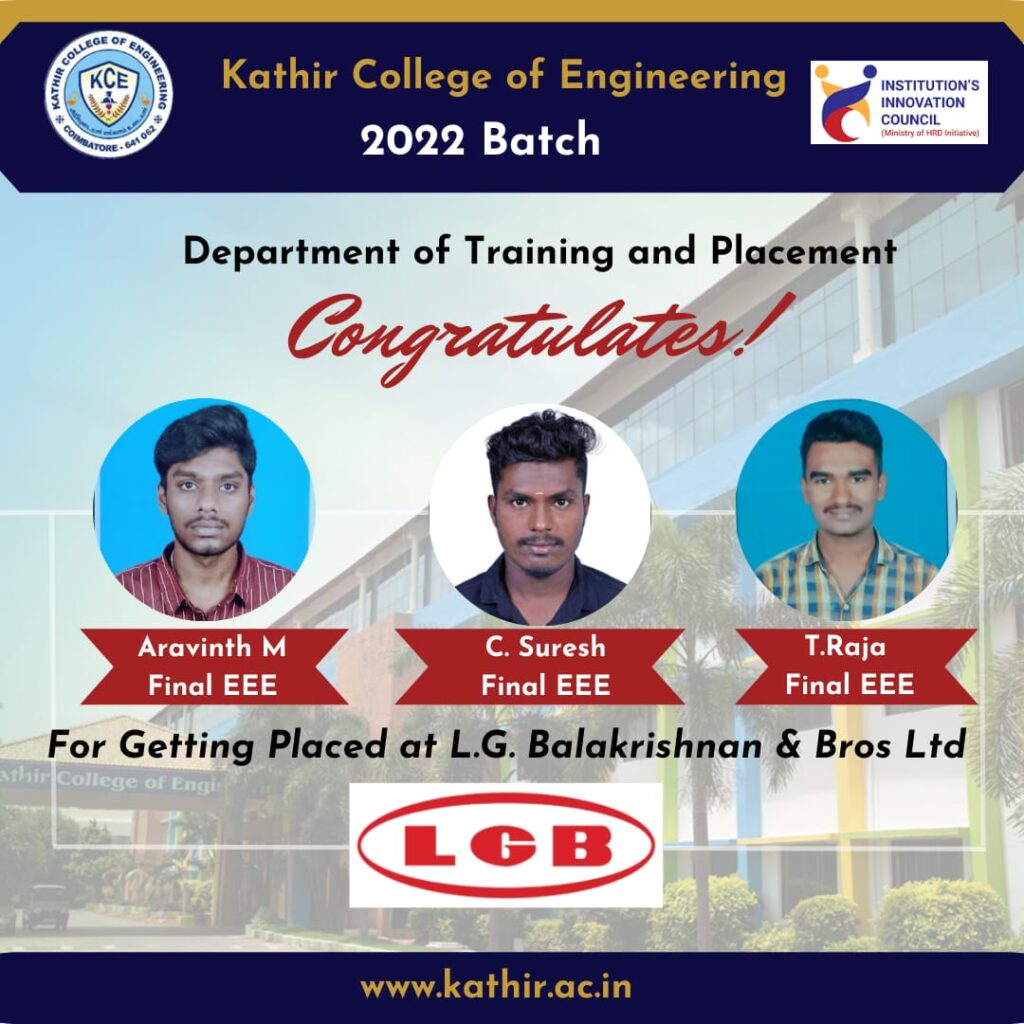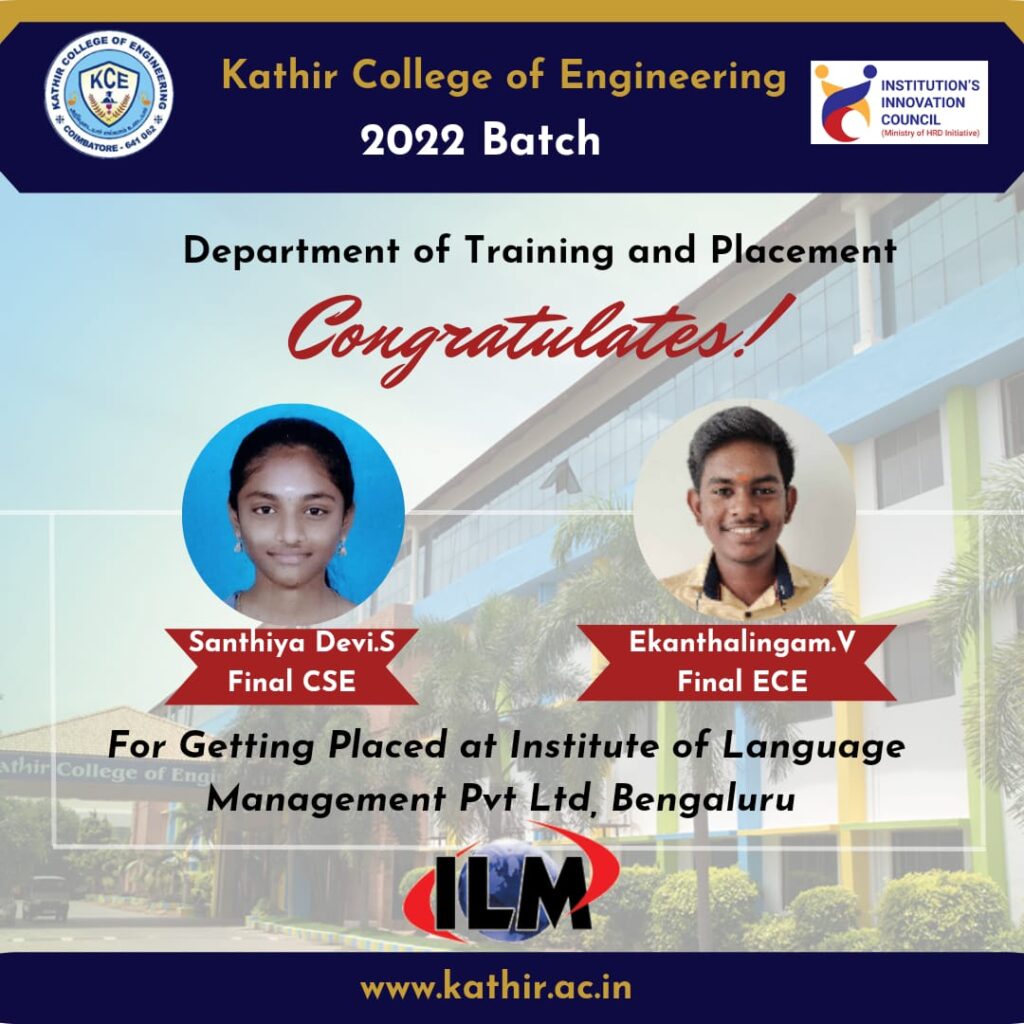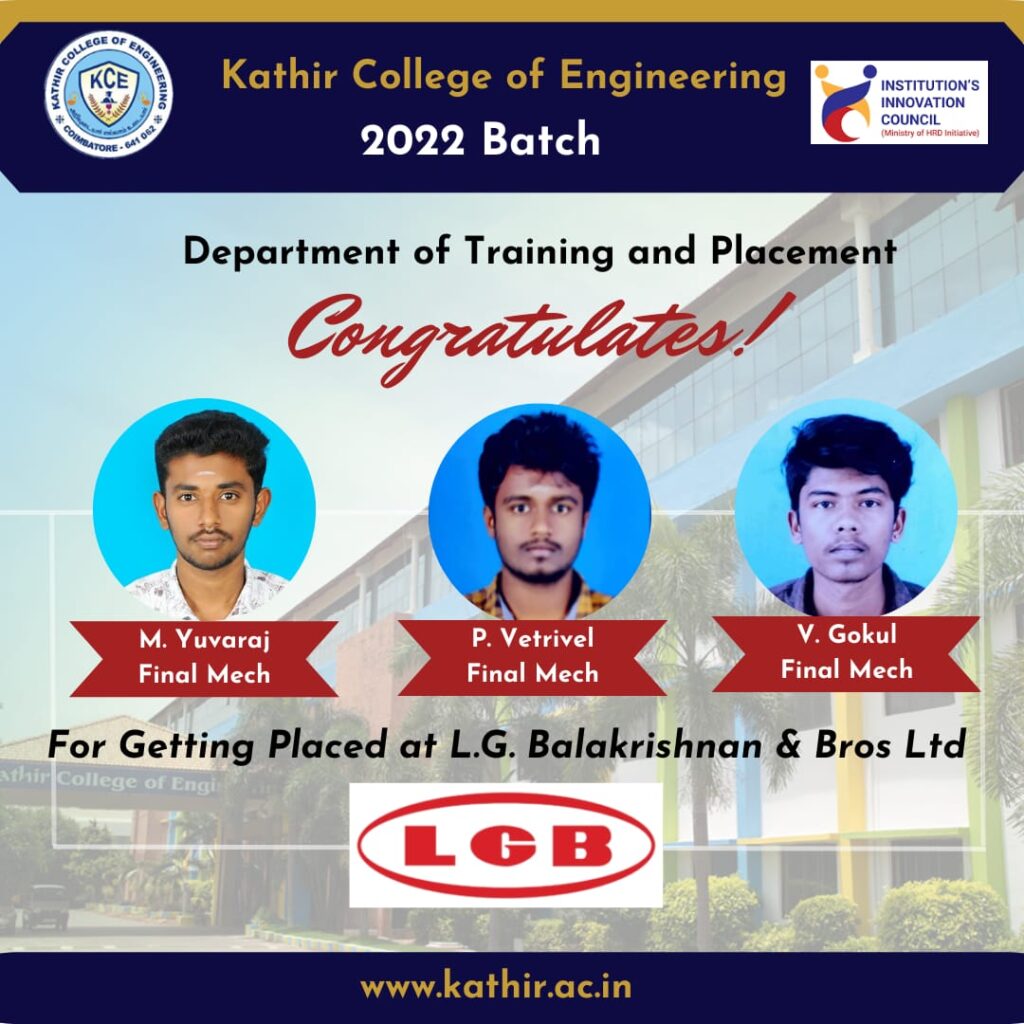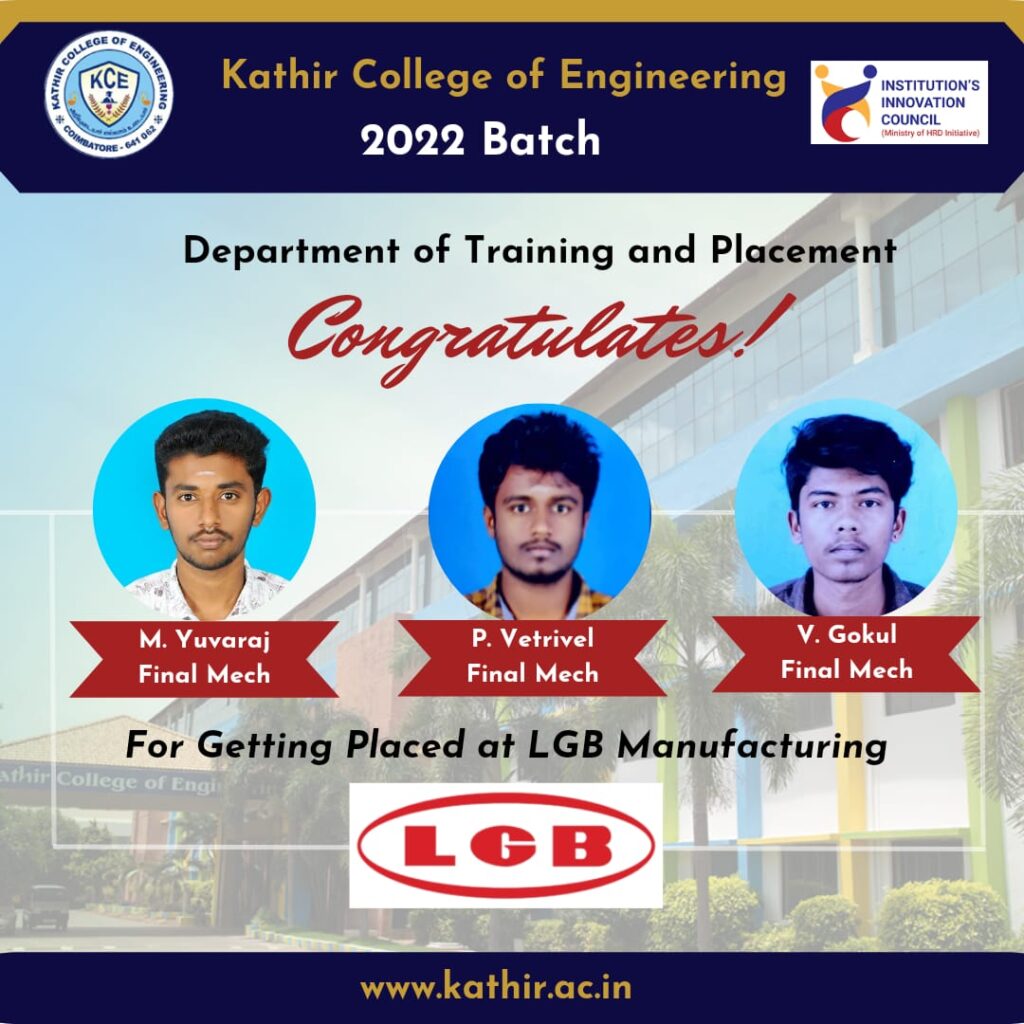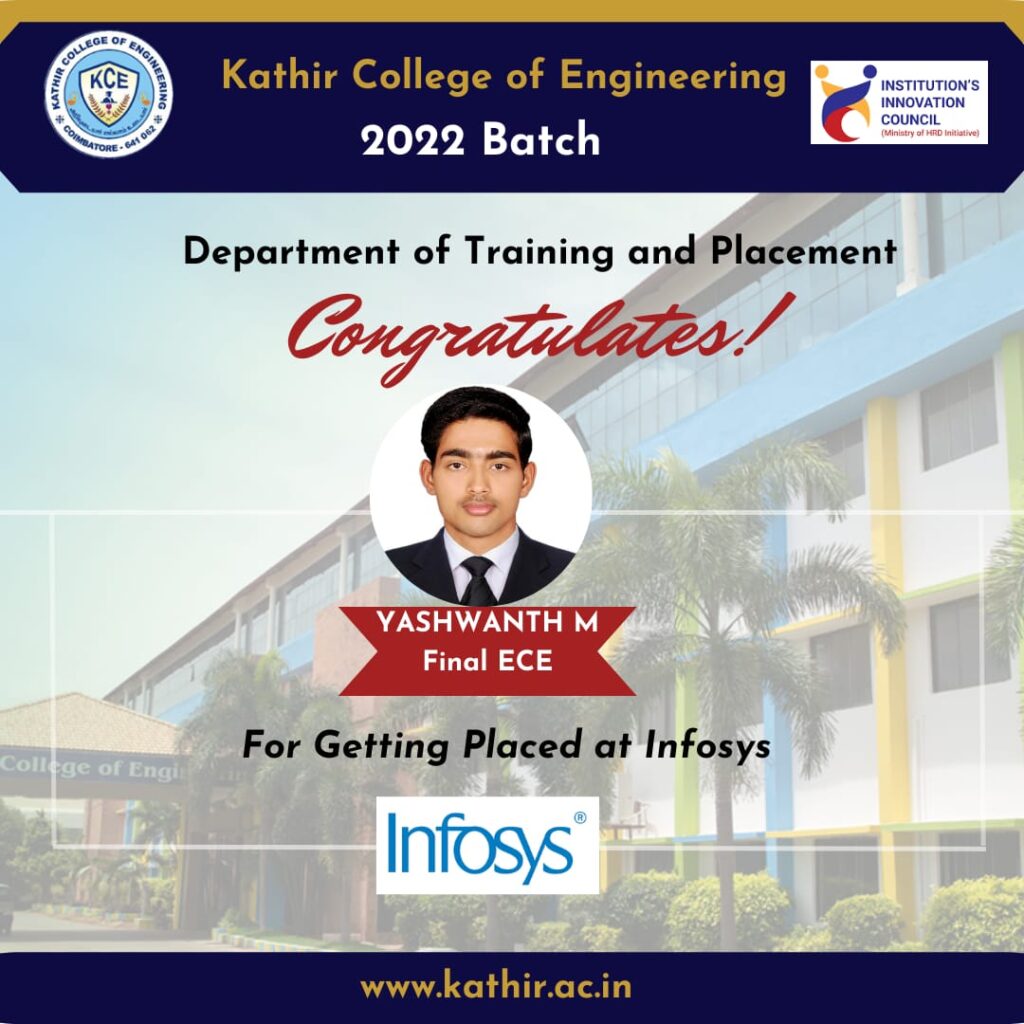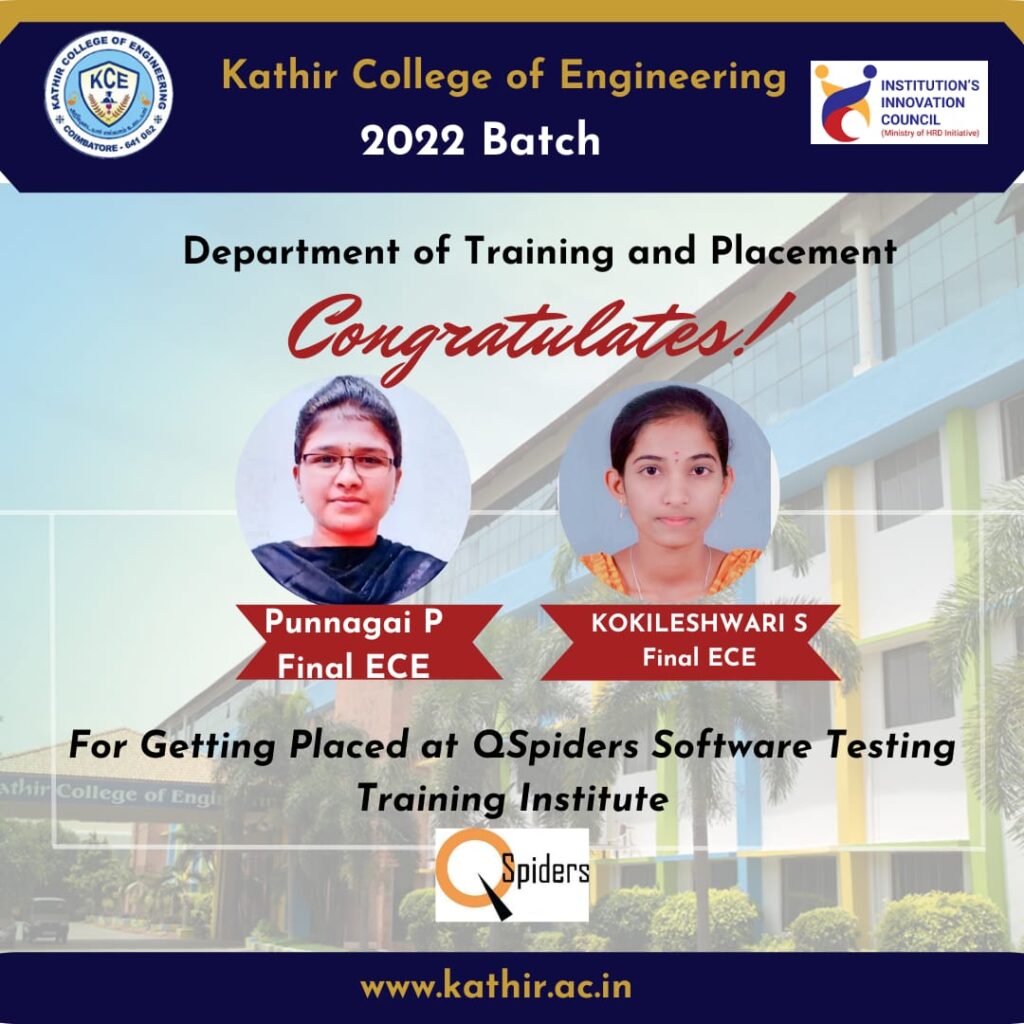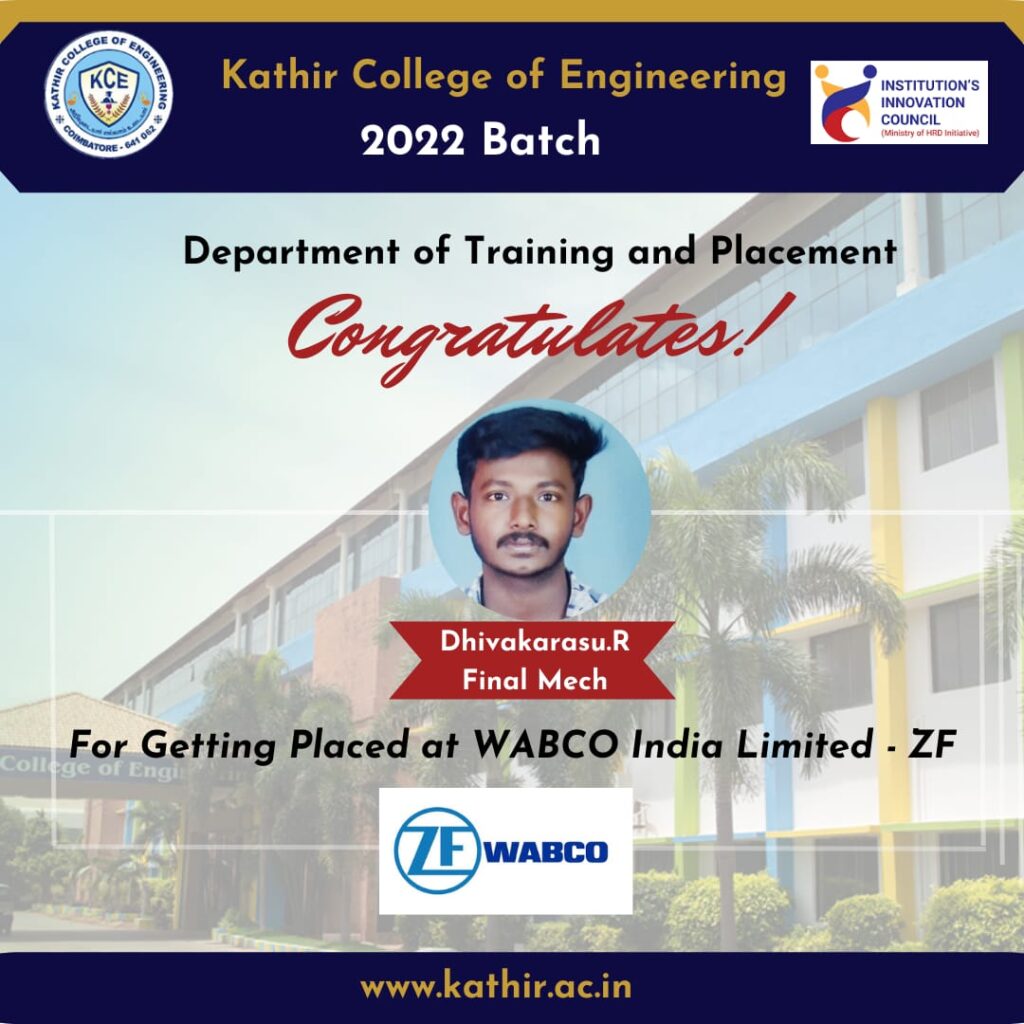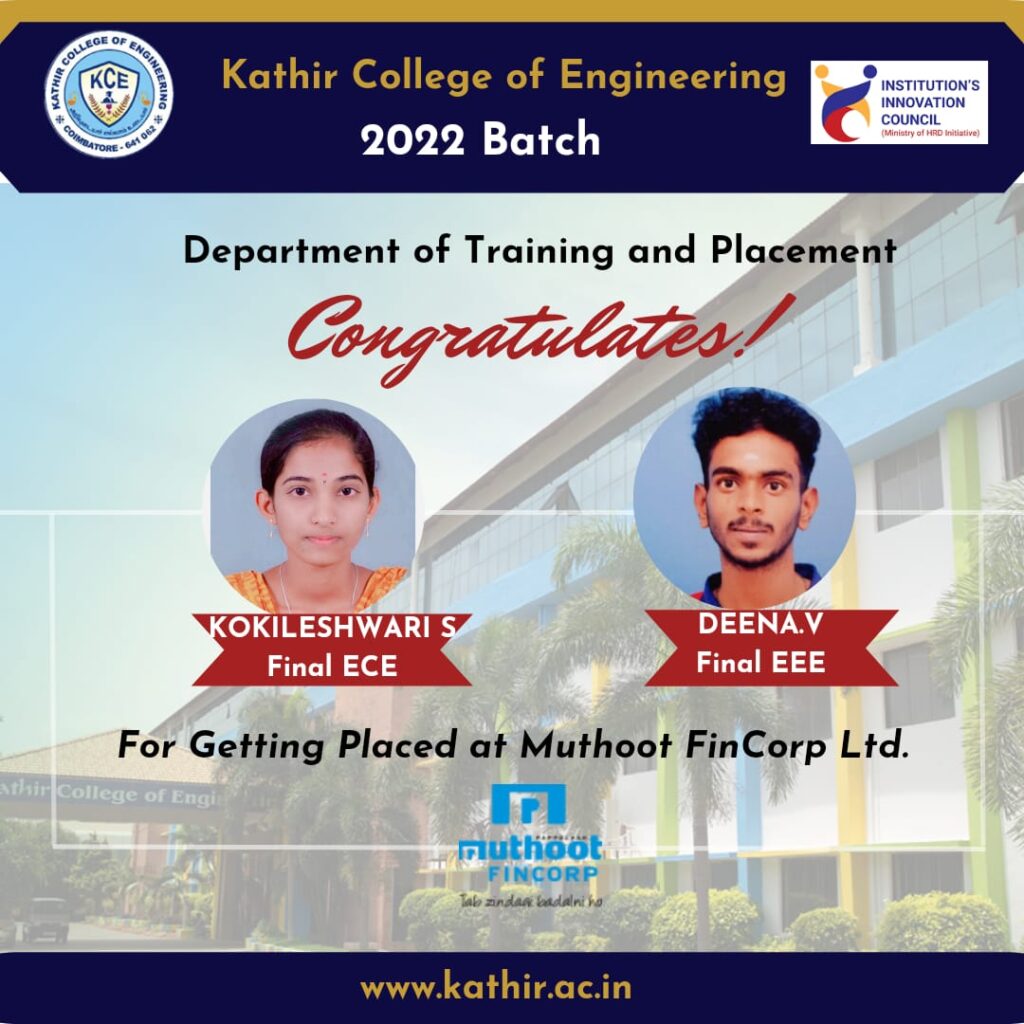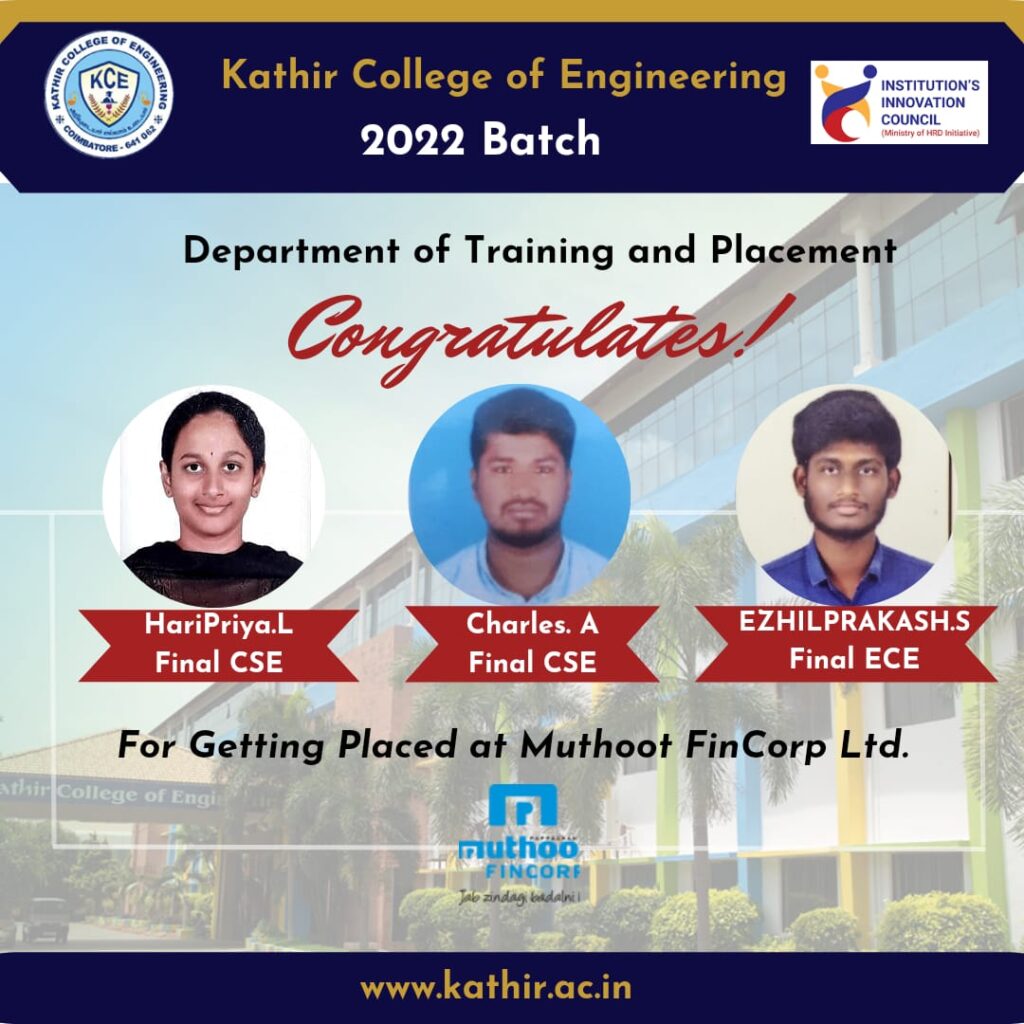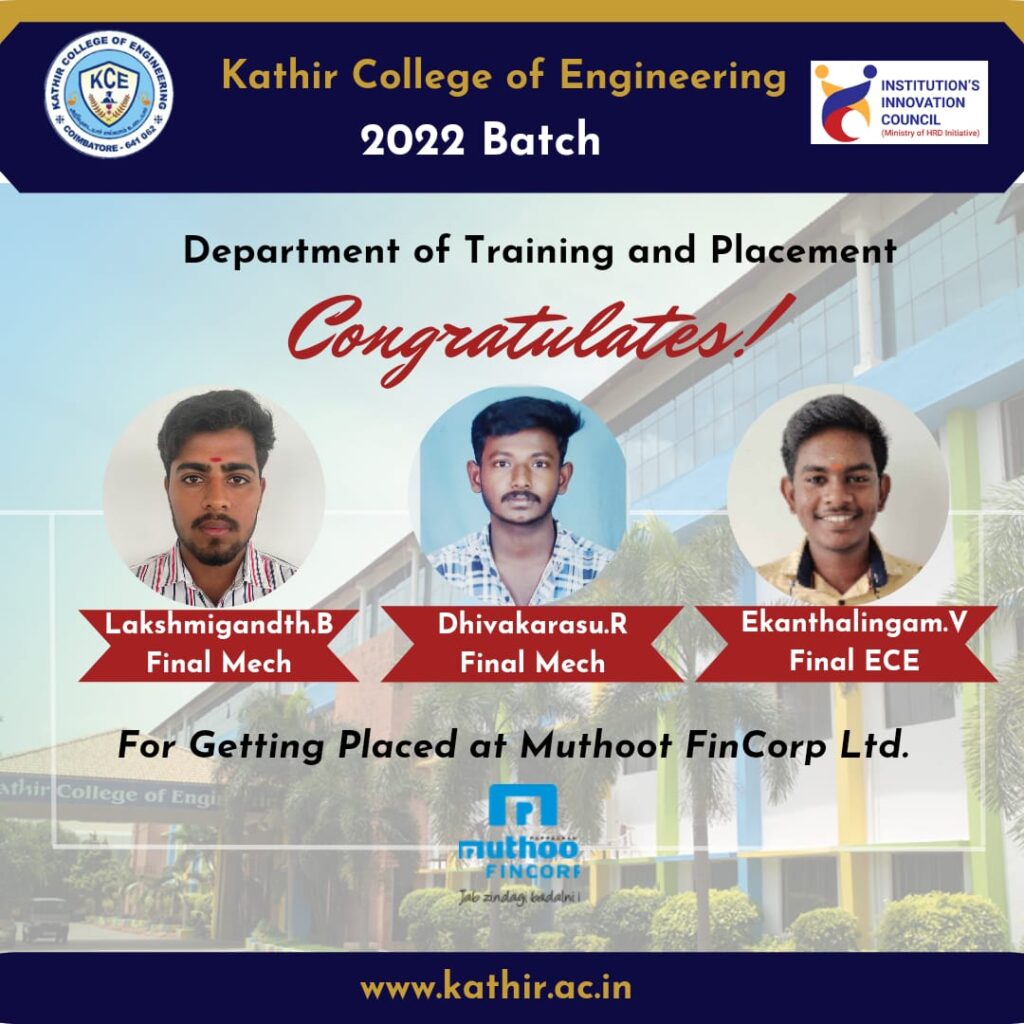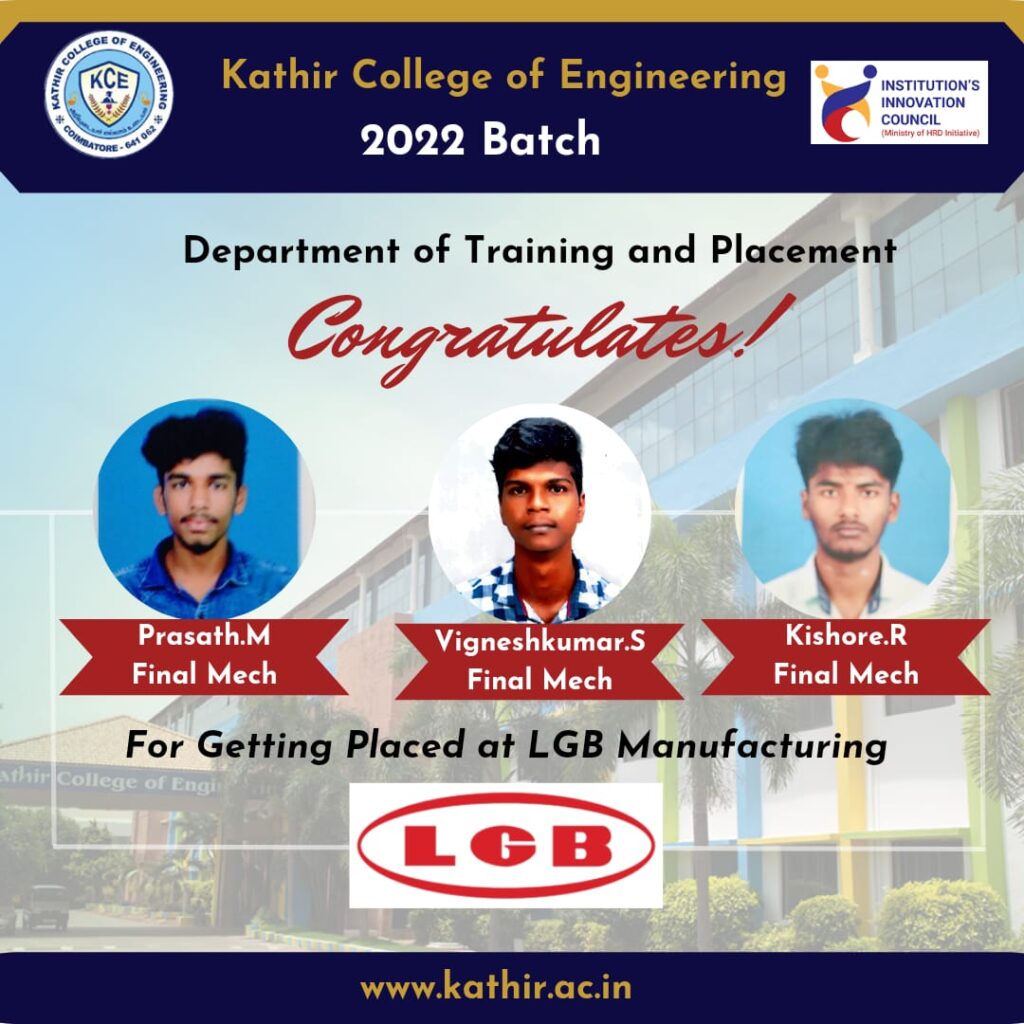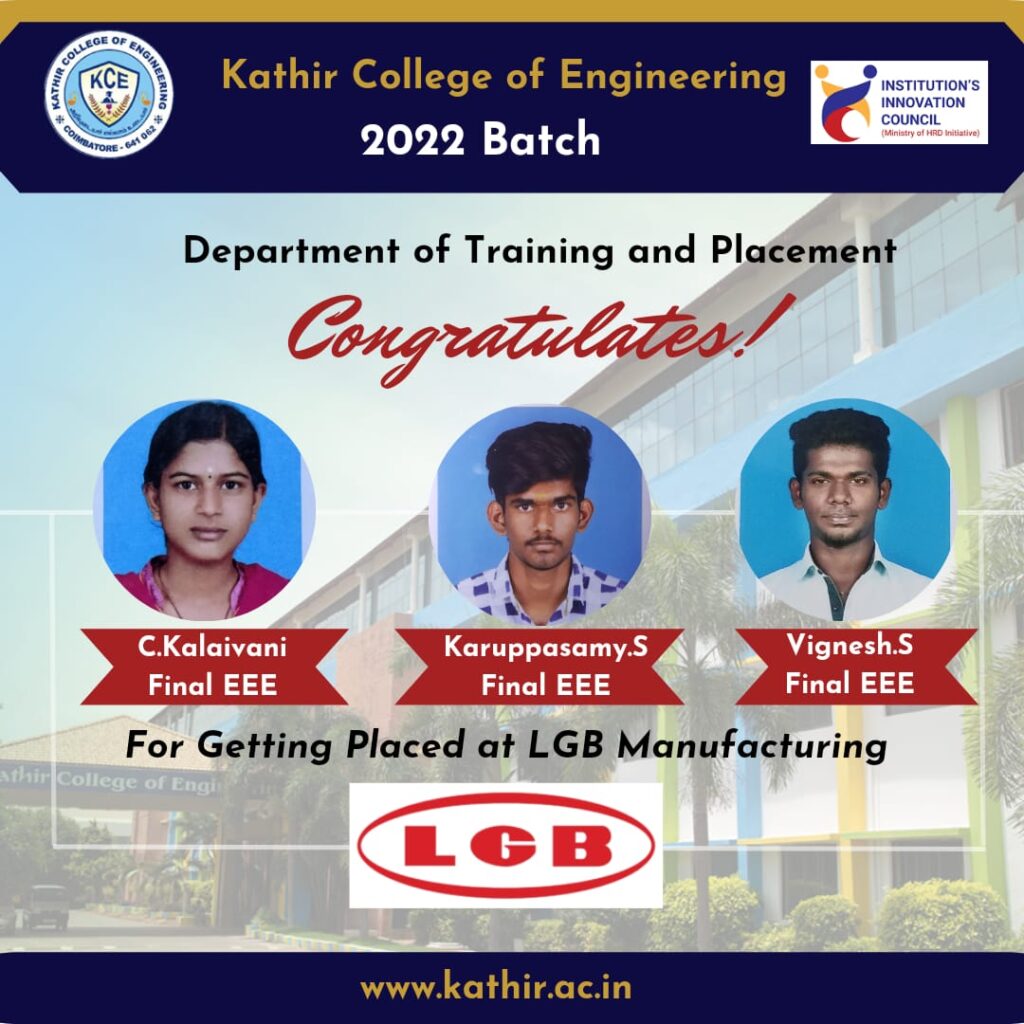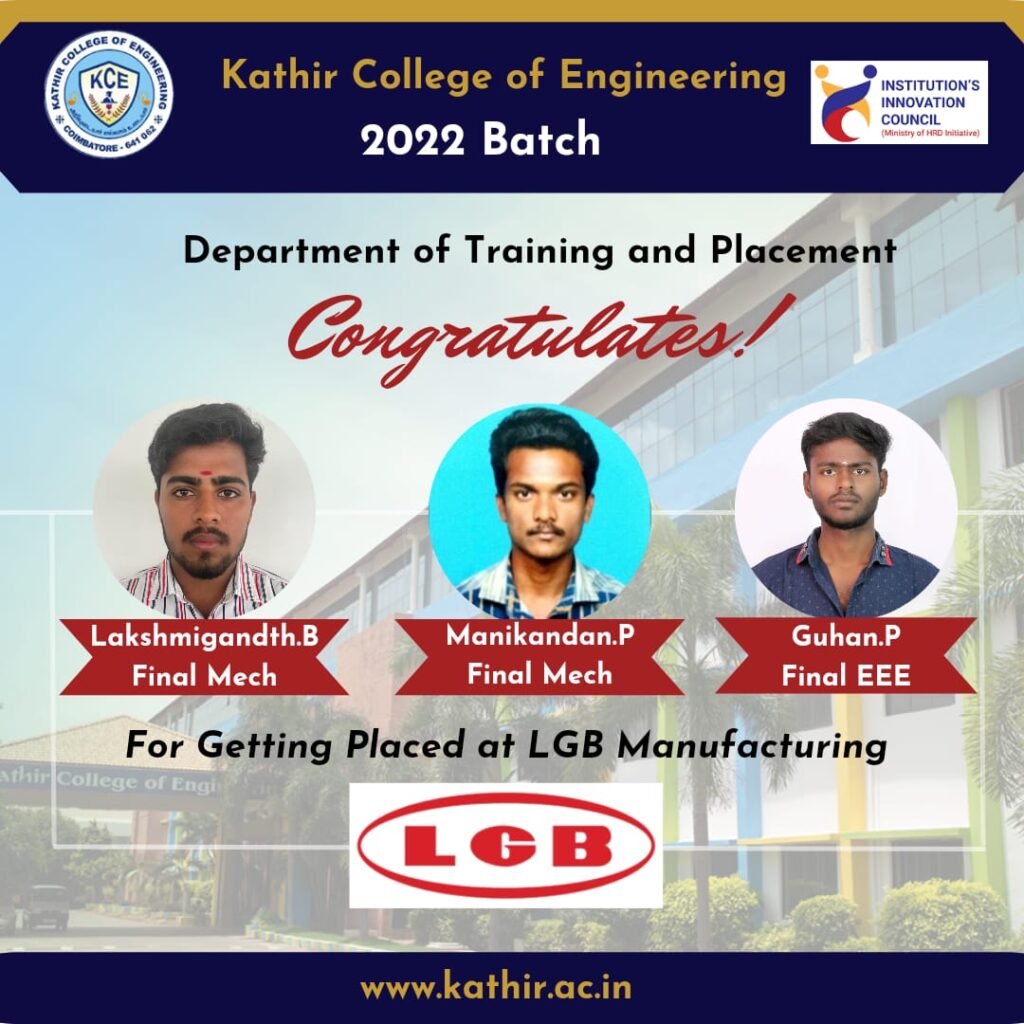 For Corporate Resource Hiring
Placement Officer

Dr. A. Mithila – placement@kathir.ac.in
For Placement Related Enquires Contact : Placement Coordinator
Mr Gopi – 99944637654